The verdict: The 2022 Mini Cooper S Convertible is a droptop that's designed to be noticed, but it's better as a driver's car than as a convertible.Versus the competition: The ranks of affordable, fun-to-drive convertibles have dwindled in recent years, leaving the Cooper S Convertible as one of the few remaining offerings — and perhaps the most stylish.Mini freshened the Convertible for the 2022 model year, giving it mild exterior and interior styling updates and some new standard features, including LED headlights, a digital instrument cluster and lane departure warning. As before, it's available in Cooper, Cooper S and John Cooper Works form, with each offering increasing levels of performance. Our test car was a Cooper S Convertible with a starting price of $32,750 (including destination). Optional features raised the as-tested price to $41,750.How It DrivesIf you're looking for driving fun, you'll find it in the Cooper S. While it lacks some of the visceral feel of prior-generation modern Minis, there's an eagerness to the driving experience that's increasingly rare in new cars. This is especially evident in the car's Sport mode, which makes the steering weightier, heightens gas pedal response and activates the six-speed manual transmission's downshift rev-matching feature.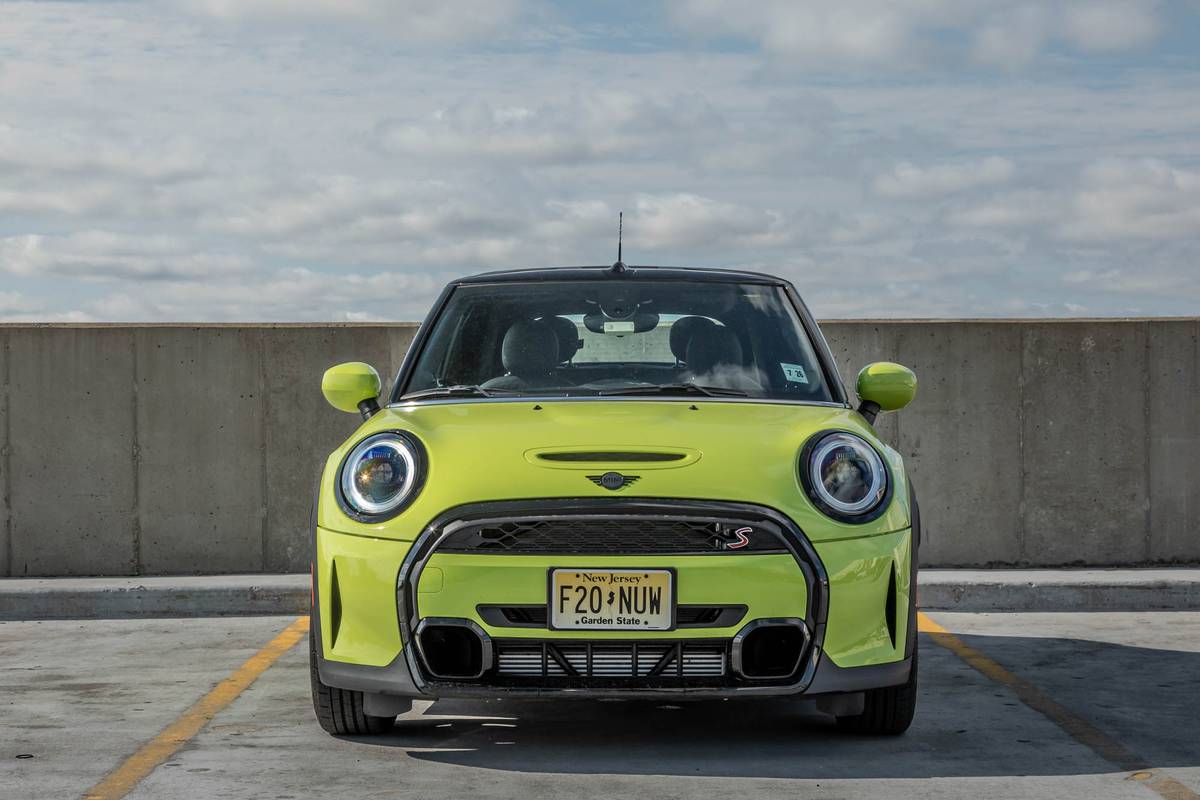 Our test car's EPA-estimated gas mileage is 23/33/26 mpg city/highway/combined. Manual-equipped cars have a fuel-saving engine stop-start feature that shuts off the engine when the car comes to a rest and the clutch pedal is released; pressing the clutch pedal again restarts the engine. The optional seven-speed dual-clutch automatic bumps the Cooper S' estimated fuel economy to 27/36/30 mpg.Our test car's options included adaptive shock absorbers and 18-inch wheels with summer tires. The resulting ride is firm and transmits road imperfections to the cabin, with bigger bumps producing a harsh, jostling response. On the plus side, the Cooper S stays flat when carrying speed through corners.
The Interior
As is characteristic of Mini vehicles, the Cooper S Convertible cabin has many unique design cues, including Union Jack accents, a red starter switch, and an illuminated ring around the dashboard multimedia screen that reflects things like cabin temperature and audio volume changes with a color-coordinated response.The Cooper S Convertible has a standard touchscreen multimedia system with an 8.8-inch widescreen display. The system can also be controlled by a knob and some buttons aft of the shifter, but I'm glad Mini includes a touchscreen; the console knob and buttons are positioned in a way that makes them difficult to use comfortably.
Storage space, not surprisingly, is at a premium, with minimal space for stuff in the doors and glove box. Lifting the front center armrest can reveal an optional wireless phone charger; I fit my iPhone 12 in the charger without needing to remove its case, but it was tight.If you don't plan on using the backseat, you can fold it to create a storage shelf. The trunk itself is small — 7.6 cubic feet with the top up and 5.7 cubic feet with it down, according to Mini's measurements — but the convertible includes levers to release the rear section of the power-folding soft top to improve trunk access.The front sport seats have manual adjustments, including ones for lumbar and thigh support, but some shoppers will expect power adjustments at this price. The seats are supportive, and their side bolsters hold you in place in fast corners.The Cooper S Convertible's two-person backseat is about what you'd expect from a diminutive convertible: barely usable for adults. There's hardly any legroom, and the seat itself isn't that comfortable. It'll perhaps be useful in a pinch, but anyone who has to sit back there won't want to stay for long.
Is It a Good Convertible?
Like the car itself, the Cooper S Convertible's standard power soft top has some unique characteristics, some of which add to the driving experience and some that detract from it.In our testing, it took about 16 seconds to lower the top and 13 seconds to raise it. The top also has a sunroof feature, wherein you can retract the portion over the front seats but leave the rest of it in place. An optional Mini Yours top features a Union Jack emblem in gray across its entirety.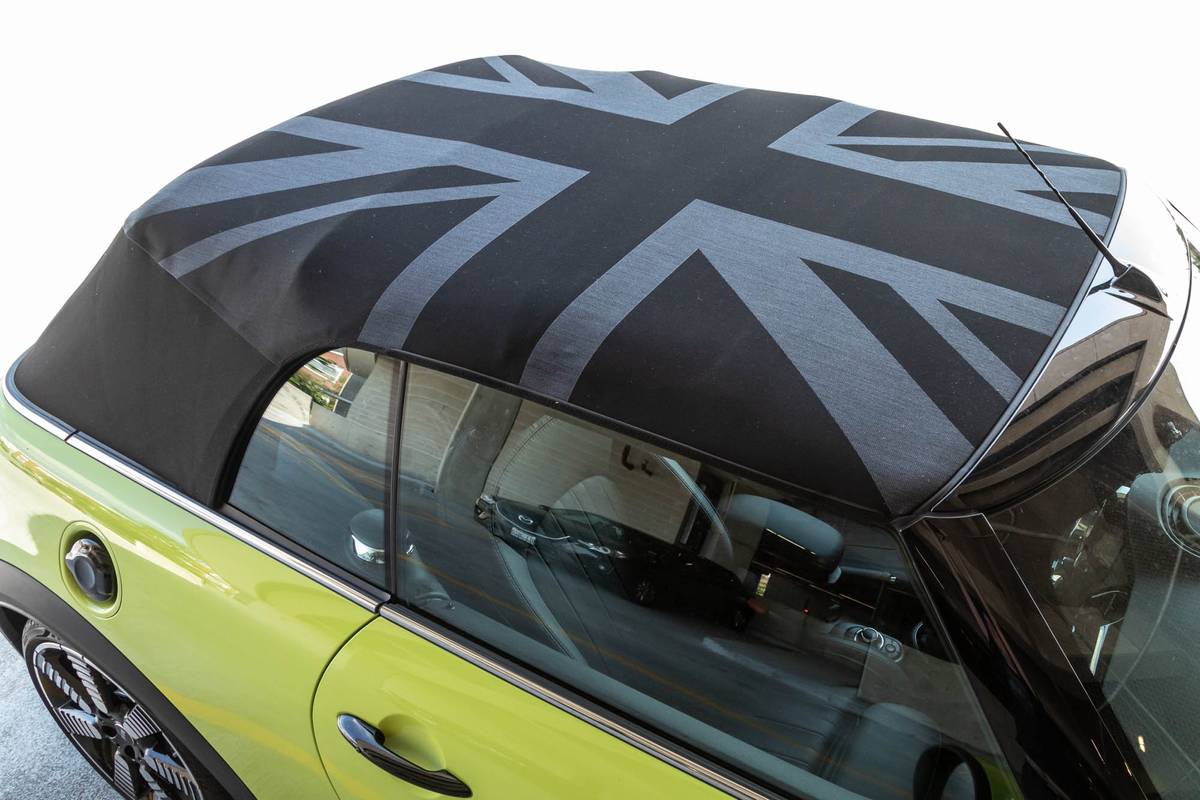 The Convertible's body structure isn't particularly rigid, either. The windshield pillars and rearview mirror shake when driving on bumpy roads, and I noticed some squeaks in the cabin.
Safety and Driver-Assist Features
The 2022 Cooper S convertible hasn't been crash-tested by the Insurance Institute for Highway Safety or the National Highway Traffic Safety Administration. The convertible's standard forward collision warning and automatic emergency braking system was rated advanced by IIHS out of a possible basic, advanced or superior.
Should You Buy the Cooper S Convertible?
The Cooper S Convertible is engaging to drive, it has unique styling cues and offers interesting personalization options. It has its share of quirks, too, and whether you find them charming or annoying will be a good indicator of whether it's the right convertible for you.