Pros
Superb handling
Potent engine
Practical for the class
Cons
Heavy
Polarising design
Tight rear headroom
A new generation of BMW M3 and BMW M4 is a big occasion for keen drivers, because the cars have a rock-solid reputation for being astonishingly competent performance cars. When this new car was launched, there was much more talk about its styling than its mechanical components.
Fortunately, it's not a case of all mouth and no trousers. The latest BMW M4 is still up there with the very best sports cars, thanks to its involving driving experience and mountainous power output. For UK buyers, only the upgraded M4 Competition is available, but you can choose BMW's xDrive four-wheel-drive system for the first time.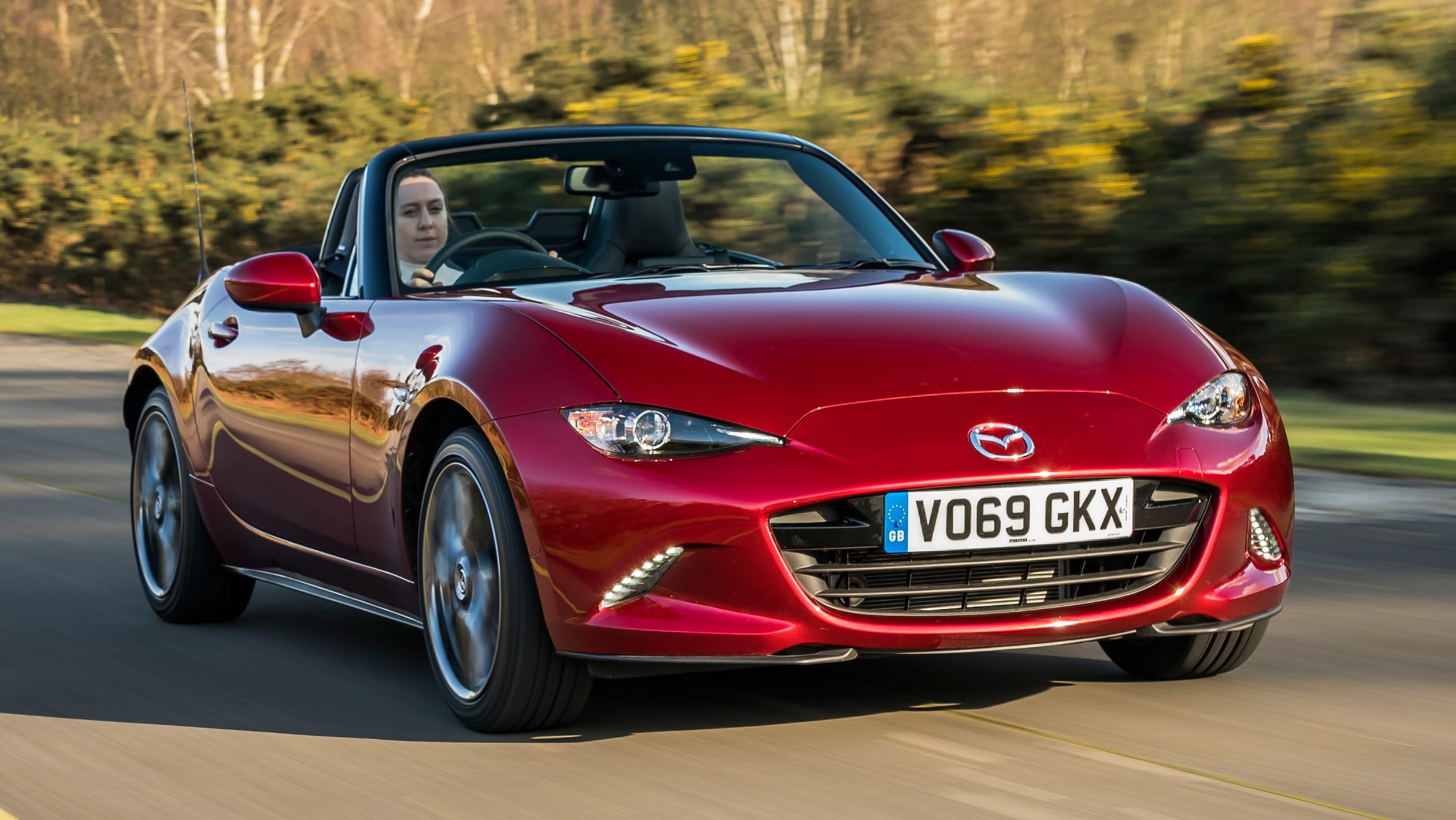 The BMW M4 Competition is one of the most serious performance models in the manufacturer's range, sitting above the BMW M2 and beneath the bigger, but arguably less focused, BMW M5. If you'd prefer a saloon with two extra doors, the BMW M3 saloon also shares most of the M4 Competition's hardware, and an M3 Touring estate is on the way.
In 2022, a new BMW M4 CSL joined the range to celebrate the M division's 50th anniversary. With carbon-fibre body panels, just the two seats and a 39bhp power increase, the M4 CSL is a serious performance car. You'll be lucky to see one, with just 100 coming to the UK. Each one costs nearly £130,000. CSL stands for 'Competition, Sport, Lightweight' and has previously represented the pinnacle of BMW M3 models.
 The standard M4 faces off against some talented rivals, including the Mercedes-AMG C63 S and Audi RS5 from Germany, and the Italian Alfa Romeo Giulia Quadrifoglio, which prospective M4 buyers may rightfully be tempted by, despite it being a saloon. A Kia Stinger GT-S is a cut-price alternative, while the V8-engined Lexus LC 500 appeals for its looks and engine noise.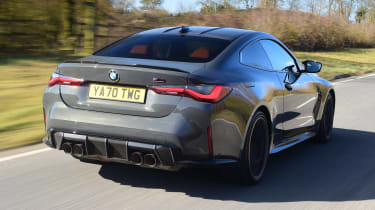 Much of the buzz around the latest M4 has been around its polarising looks because, in keeping with BMW's latest design direction, it features a significantly larger interpretation of the traditional kidney grilles. It's up to buyers to decide if they approve or not but it's also worth noting the M4 is available in Black Sapphire metallic at no extra cost, which makes the nose much more subdued than Sao Paulo Yellow. Naysayers are also far less likely to have an issue with how the M4 looks from the sides or rear, which are sleek and far less controversial. You may also think the pumped-up M4 suits its grilles better than the regular BMW 4 Series on which it's based.
Even more importantly, the M4 is very impressive from behind the wheel. Its chassis feels balanced and communicative, which wasn't always the case for its predecessor, and in its gentler driving modes it even feels laid back. Of course, its 503bhp twin-turbo 3.0-litre petrol engine can still serve up devastating acceleration, getting the 1,700kg M4 from 0-62mph in 3.9 seconds. Mash the throttle in a corner and the rear can struggle to put down all that power but a four-wheel-drive version is also available. We'd recommend the xDrive version, because the power is even more accessible and the extra traction adds a feeling of security in poor weather. The xDrive model is also quicker, taking just 3.5 seconds to complete the 0-62mph sprint. 
Stick with one of the more conservative colour schemes and the interior feels fairly grown up, aside from the bright red driving mode buttons and engine push start. A 10.25-inch infotainment display and 12.3-inch gauges dominate proceedings, and the software is clear and easy to use. Beware of the option packs, though, which are tempting but seriously push up the price. Unless you attend lots of track days, £8,000 for a set of ceramic brakes and a 180mph top speed (raised from 155mph) might not be necessary.
MPG, running costs & CO2
A sports car in a sensible suit, with prices to match
Nobody is likely to buy a BMW M4 to cut down on their motoring bills but that doesn't mean BMW's engineers can adopt an 'anything goes' ethos. Indeed, the M4 has been affected by the downsizing trend; it's now fitted with a 3.0-litre six-cylinder petrol engine with two turbochargers – around a decade ago it would have had a 4.0-litre naturally aspirated V8. It also features fuel-saving measures like stop and start to cut power while waiting in traffic.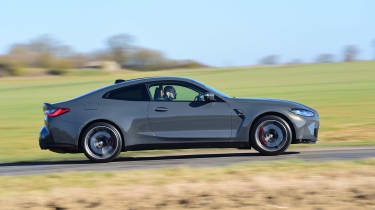 This adds up to a car capable of 28.8mpg, while CO2 emissions from 228g/km place it firmly in the top 37% Benefit-in-Kind (BiK) band for company-car drivers. You'll need to drive gently to get close to this fuel economy figure in the real world. This compares well to the Alfa Romeo Giulia Quadrifoglio (with 27.2mpg), while it's just behind the Mercedes-AMG C63 with an official figure of 32.8mpg. Drive more how you might when enjoying the M4's performance and we found around 18mpg is more realistic.
 Of course, running costs will be substantially higher than for a standard model, with performance tyres, brakes and other consumables all more expensive than standard parts. The M4 also sits in a high insurance group, so it's worth getting a quote before going ahead.
That's on top of the initial price, which is significantly more expensive than the previous M4's launch price. Tick enough option boxes and this is a car that can cost £100,000. Road tax costs more than £500 per year until the car is six years old.
Engines, drive & performance
Great balance and feel impress even more than the engine
We haven't sampled the latest BMW M4 on a track yet but on the road it's seriously impressive. For a start, when you don't want it to be a shouty performance monster, the M4 is surprisingly relaxed. In fact, it's no more tiring or difficult to drive than a 420d, making it feel more mature than its predecessor. Despite having a firm ride, the suspension is well judged enough to round off most of a road's sharpest edges.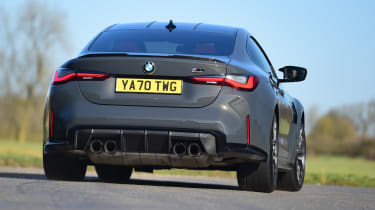 Of course, the M4 also has a wild side but thanks to a myriad of options to adjust the engine, gearbox, steering weight and electronic safety net, you can tune the M4 to feel exactly how you want. Dial it up to Sport or Sport Plus and the M4 still doesn't feel completely intimidating because the balanced chassis and controls keep you informed with exactly what the car is doing. The steering even conveys how much grip the front tyres have, which hasn't always been the case with recent fast BMWs. Get too audacious with the throttle, though, and you'll be able to feel the rear of the car shimmy through the driver's seat.
 It goes without saying that with 503bhp and 650Nm of pulling power, the M4 Competition (we don't get the less powerful non-Competition version in the UK) is seriously rapid, getting from 0-62mph in 3.9 seconds. The rear-wheel-drive version is exciting enough but there is also a four-wheel-drive model that uses BMW's xDrive technology. Not only does this version add extra traction in wet conditions, but it enables an even quicker acceleration time too. The engine really comes alive at 3,000rpm, when the turbos are blowing at full strength and the M4 hurtles towards the horizon, with fast shifts from its eight-speed automatic gearbox.
Interior & comfort
Bold colours aside, the interior is luxurious and feature rich
The M4's interior is shared with the BMW M3 and, to a large extent, the standard 3 and 4 Series. If you get trigger happy with the options list, however, it's possible to spec some truly lurid interior colour combinations that aren't likely to suit everyone. Grey and black might be a better bet to ensure resale values are as high as possible.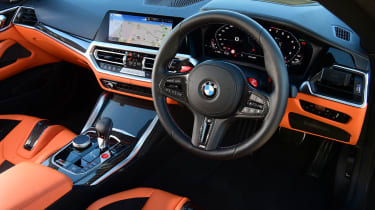 Exclusive details include an M steering wheel with red buttons for driving mode selection, Merino leather sports seats and carbon fibre trim inlays. Carbon fibre bucket seats are also offered, saving 10kg of weight versus the standard items; they're expensive at £6,750, but are extremely supportive and look very theatrical. BMW's latest software is loaded onto the iDrive infotainment system with a 10.25-inch touchscreen, while a 12.3-inch digital instrument cluster sits nestled behind the steering wheel.
Standard equipment includes three-zone climate control, wireless smartphone charging and a 16-speaker Harman Kardon sound system. Options include a Comfort Pack with a powered bootlid, keyless access (that can also be used with a digital key on a compatible Apple smartphone) and a heated steering wheel. An M Pro pack adds carbon ceramic brakes, increases the car's top speed to 180mph and includes a BMW Driving Experience, but it costs a cool £8,000. 
Practicality & boot space
Decent rear legroom means you can carry three passengers in a pinch
Driving enthusiasts are likely to cross-shop the BMW M4 Competition with entry-level versions of the Porsche 911, and practicality could be one reason to pick the M4. While it takes a while for the front seats to slide out of the way, once they do, there's more legroom in the back of the M4 than not only the Porsche but also an Audi RS5. Headroom isn't quite as impressive, though, with anyone close to six-feet tall likely to find their head brushing the headlining. The M4 only has room for two in the back.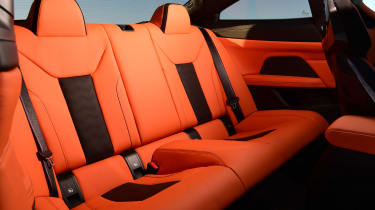 Boot space is also unchanged for the M4 version, so buyers will get the same 440 litres of luggage room as a regular petrol or diesel 4 Series. This is quite a bit more than the 355-litre boot in the Mercedes-AMG C63 but the Alfa Romeo Giulia Quadrifoglio is even better, managing 480 litres. 
Reliability & safety
BMW is languishing in our Driver Power survey but the M4 should be very safe
The BMW 4 Series, on which the M4 is based, hasn't been around for long enough yet to appear in our Driver Power owner satisfaction survey. However, BMW itself only managed to come 21st out of 29 manufacturers in our 2021 results, which was a poor showing, albeit a six-place improvement on 2020. However, its closest rival did even worse, with Mercedes coming 28th. The M4 should arguably be even more thoroughly engineered than the standard model because its designers will have ensured it's strong enough to cope with the extra power and cornering forces.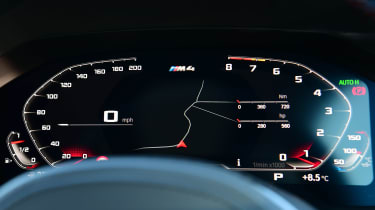 It's unlikely the M4 will be crash-tested by Euro NCAP owing to its relatively small sales volumes but the closely related BMW 3 Series has already been awarded the full five stars for safety. This included an impressive 97% for adult occupant protection. Standard safety equipment includes autonomous emergency braking, lane departure warning and speed limit information. Choose the Technology Plus pack and there's also a Drive Recorder, which can record video using the car's cameras in the event of a collision.