"The Kia EV6 is one of the best electric cars on sale, with a great range and rapid charging"
Pros
300-mile+ range
Fast charging
Impressive tech
Cons
Firm ride
Rear headroom
Smaller battery size not available in the UK
The Kia EV6 is a sporty electric hatchback with a range of over 300 miles, impressive 350kW rapid charging and a 577bhp performance version on the way. It's closely related to the Hyundai Ioniq 5, which is our Best Family Electric Car for 2022. All this makes it a potential favourite in the battle between the Skoda Enyaq iV, Ford Mustang Mach-E, Cupra Born and Tesla Model Y.
It's Kia's first purpose-built electric model that can't be had with a petrol or plug-in hybrid powertrain. This gives it some key advantages, such as a low centre of gravity for better handling and a flat floor that improves passenger and luggage space.
There are currently two versions on offer in the UK, both of which come with a 77.4kWh battery. The more affordable option is rear-wheel drive and has a single motor with 226bhp, giving it a range of up to 328 miles. Spend around £4,000 more and you get an extra motor up front, increasing power to 321bhp and adding four-wheel drive but reducing range slightly to 314 miles.
We've now tried both, and the rear-wheel-drive version felt every bit as quick as its 7.3-second 0-62mph time suggests. It's very quiet, especially at town speeds, and feels slightly sharper than the Hyundai Ioniq 5. Not only does it look a bit more sporty thanks to its lower stance but its suspension is a notch firmer as well, improving body control but also transmitting a few more bumps into the seats. 
We think the cheaper version is the sweet-spot in the range, because while the all-wheel-drive model is faster in a straight line, it doesn't feel much more exciting to drive overall, has a shorter range and costs significantly more.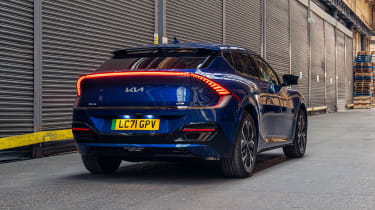 Inside, your eyes will be drawn quickly to the curved dual-screen setup for the instruments and infotainment, which spans the dashboard in a graceful arc. Materials are of a good quality too, casting doubt on the assumption Volkswagen still makes the best-quality mass market interiors. There's ample space and lots of kneeroom even in the second row, although headroom does suffer somewhat because of the low roof. A 490-litre boot should come in handy, as will a 40-litre 'frunk' in the rear-wheel drive model.
As you'd imagine, it's close between the EV6 and Hyundai Ioniq 5 but even after we compare them back-to-back, the choice is likely to come down to personal taste. The Kia is more conventional and sporty looking than the quirky Hyundai, with a slightly more precise driving experience. The Hyundai is more striking and a bit more practical, with extra space in its back seats and boot. The Kia stacks up well in its own right, however, with a competitive range figure and interior for the money, making it one of the best EVs in the £40-50,000 price bracket. 
Kia EV6 hatchback - Range, charging & running costs
With a range of over 300 miles and ultra-rapid charging, the EV6 ticks all the right boxes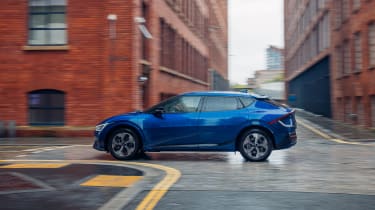 While the term 'range anxiety' is becoming much less of a concern for buyers of electric cars, it's long been thought that when EVs could break the 300-mile barrier, there'd be even less reason to resist the switch away from fossil fuels. Step forward the EV6, which offers a range of up to 328 miles and can be considered a mainstream model, which should be affordable for many company-car drivers or private customers on a good leasing deal.  
Kia EV6 range and charging 
In most markets there are 58kWh and 77.4kWh battery versions of the EV6 but UK customers are only being offered the bigger of the two for the foreseeable future. It's a shame a more affordable version isn't available but it seems likely the decision is based on demand. 
The bigger battery offers that headline figure of a fraction less than 330 miles with the lower-powered motor and rear-wheel drive. Choose the GT-Line version with four-wheel drive and range slips to a still-impressive 314 miles, or 300 miles for the GT-Line S with larger 20-inch alloy wheels. For comparison, the Tesla Model Y Long Range has a range of up to 315 miles but costs around £8,000 more. The Cupra Born 77kWh has a range of up to 335 miles.
Kia and Hyundai both appear to be near the top of the class when it comes to EV efficiency, and during a varied test drive on UK roads, motorways, city streets and the occasional A- and B-road blast, our test car returned 4.2 miles per kWh. This would indicate a real-world range of 325 miles, which isn't far off the official figure, despite using all its various driving modes. In the all-wheel-drive version, a range of around 290 miles is more realistic.
Charging is class-leading, with Kia's 800-volt electrical architecture (the same voltage you'll find in a Porsche Taycan) providing speeds of up to 350kW if you can find a potent enough public DC charger. Do so, and it'll take the battery from 0-80% in just 18 minutes, making long journeys no issue at all. Using a home 7kW wallbox charger will take just under 10 hours for a 0-100% charge.
Insurance groups
The high performance and new technology found in EVs tends to see them placed in higher insurance groups than equivalent petrol or diesel models. The entry-level Air trim sits in group 34 out of 50, which is one band lower than the Hyundai Ioniq 5. With four-wheel drive and some extra power, the GT-Line sits in group 40. The Volkswagen ID.4 sits in groups 20-30, while the Ford Mustang Mach-E Extended Range is in group 37.
Warranty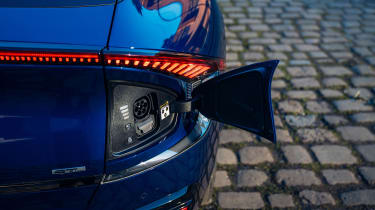 Kia is well-known for its seven-year/100,000-mile warranty, which is still one of the best in the industry and can even be transferred between owners. If there are any issues with the EV6, owners are unlikely to have to spend money getting them fixed.
Servicing
Servicing should be much simpler for EV models because electric motors and batteries only require attention if anything goes wrong. Items like cabin air filters and brake fluid will still need attention, along with brakes, tyres and windscreen wipers.
Kia EV6 hatchback - Electric motor, drive & performance
It's no lightweight but you wouldn't know from behind the wheel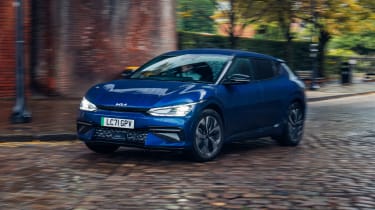 The Kia EV6 shares an all-new electric car platform with the Hyundai Ioniq 5, a model that's already our Best Family Electric Car for 2022. Like the Hyundai and rivals such as the Cupra Born, it comes with a few power options to suit different customers. 
First impressions are also that the EV6 is slightly sharper to drive than the Hyundai, lending it a small edge if you fancy a sporty EV driving experience. It can cover ground quickly, with well-judged suspension keeping everything under control. The Kia's lower roofline also gives it a sportier feel than the slightly taller Hyundai.
We'd recommend against using Sport mode, however, because we found the increased throttle and steering response turn things up too much, making the car feel unruly. 
Kia EV6 electric motor 
There's currently a choice of a single-motor version with 226bhp and rear-wheel drive or a more potent model that has a front motor and four-wheel drive, helping deploy its 321bhp. We tried the entry-level version first, which is hardly slow, getting from 0-62mph in a respectable 7.3 seconds. 
The dual-motor car cuts this to 5.2 seconds and the top speed of both cars is electronically limited to 114mph. There still isn't the crazy hit of power you'll experience in a Tesla Model 3 Performance or Porsche Taycan, but it feels urgent enough.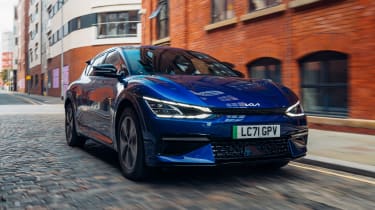 Like the Ioniq 5, the EV6 is a bigger (and heavier) car than it first appears in photos but it still gets up to the national speed limit in the UK with very little fuss and a sense of effortless performance. It also has instant punch if you put your foot down, providing plenty of confidence for overtaking slower traffic, even in Eco mode. 
A four-wheel-drive GT version is also on the way, which can get from 0-62mph in just 3.5 seconds and carry on to a top speed of 162mph. With 577bhp, this will be the most powerful Kia model in its history, with performance to rival a Porsche Taycan or Tesla Model X. It will have a range of up to 251 miles.
Kia EV6 hatchback - Interior & comfort
Attractive and well-appointed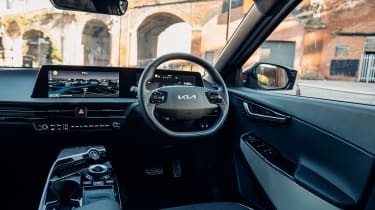 Kia has done a sterling job of keeping mechanical noises from the suspension and electric motor out of the interior, so it's near-silent at lower speeds. In the single-motor version, it helps that the motor is located far away from the driver, under the boot. There's still just a very faint motor whine in the all-wheel-drive version, and the suspension isn't excessively firm either. Once speed picks up, the most noticeable noise is from the tyres. As mentioned, the EV6 is reasonably firm, so sharp bumps can be felt in the car but no more so than in lots of other models.
Kia EV6 dashboard
The dashboard is focused around a pair of 12.3-inch curved displays, both of which are easily legible thanks to sharp graphics. One houses the instrument displays, while the second is a touchscreen for media, settings and navigation, with a ledge beneath it that comes in useful for steadying your hand while interacting with the display. Below this, there's a neat touch-sensitive controller that can be switched between the climate control and audio system with a swipe.
Its design and materials also feel in keeping with a car costing more than £40,000. Fabrics, gloss-black trim and chrome all look the part and, in keeping with the environmentally friendly theme, the seat upholstery uses the equivalent recycled material of 111 plastic bottles per car. A large, augmented-reality head-up display is also available to project useful information ahead of the driver's line of sight.
Equipment
Standard equipment levels are generous, with LED exterior lighting, 19-inch alloy wheels, rear parking sensors, folding door mirrors and automatic wipers from the off. There's also artificial leather seats, heated front seats, a heated steering wheel, ambient lighting and dual-zone climate control.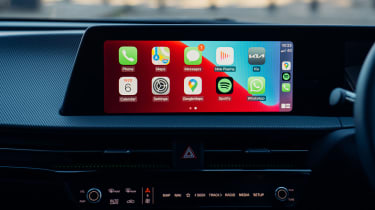 GT-Line adds front parking sensors, tinted glass, upgraded front seats which can fully recline, aluminium pedals and wireless smartphone charging. Upgrade to GT-Line S, and 20-inch wheels are added, as well as a powered tailgate, a panoramic sunroof, heated rear seats, a 14-speaker Meridian stereo and the head-up display.
Kia EV6 hatchback - Practicality & boot space
It's a good size and can even deliver power to other electrical devices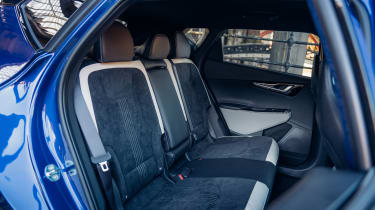 One interesting feature is called vehicle-to-load (V2L), which makes it possible for the EV6 to act like a giant battery charger on wheels. Items like phones and laptops can be charged using a three-pin plug, or owners can even use the EV6 to power a 55-inch TV and air-conditioner for around 24 hours, which could be handy in a power cut, or for off-grid camping.​
Kia EV6 interior space & storage
The electric Kia has a flat floor, with no transmission tunnel, helping make the interior spacious and uncluttered. There's lots of room in the front seats and you won't feel too hemmed in by a large centre console or towering dashboard, with plenty of forward visibility.
A smooth floor helps three passengers sit across the back seat too, and there's little chance of them banging their knees on the front seats. Headroom isn't quite as good as in the Ioniq 5, though, because of the lower roofline. If you regularly carry tall adults in the back, the EV6 might not be the best choice. 
Boot space
The boot is a useful shape and there's a variable-height floor, so you can decide if you want a smooth loading lip or maximum space. Its 490-litre volume should be more than enough for most owners but it's a shame there aren't more useful features like hooks and a set of cargo nets to help secure items as you drive.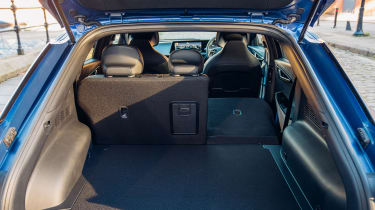 Rear-wheel drive models also get a 52-litre 'frunk' storage area under the bonnet, which is perfect if you want to carry charging cables, a wet umbrella or muddy boots away from the interior. Pick a four-wheel-drive version and this space shrinks to a less-impressive 20 litres.
Kia EV6 hatchback - Reliability & safety
Kia scores highly with owners and the EV6 is loaded with safety kit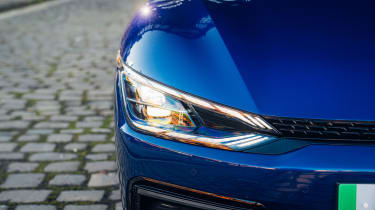 ​While this may be the first model built on Kia's new E-GMP platform, the brand has built up a great reputation with some of the people who've already made the switch to electric cars. Models like the Kia e-Niro and Kia Soul EV have proved durable, with an excellent driving range which doesn't appear to diminish significantly over time.   
Kia EV6 reliability
Both Kia and Hyundai have built up solid reputations as some of the leading proponents of EV technology, and models have sold in large numbers around the world. Hopefully this knowledge will have helped inform lots of decisions to make Kia's first ground-up electric car even better.
Kia is certainly flying high in our 2021 Driver Power owner satisfaction survey, placed only behind Porsche. It was near the top in every category, and boasts superb scores for reliability and build quality, along with the use of their infotainment. Not only that but owners also told us their Kias were fun to drive and stylish.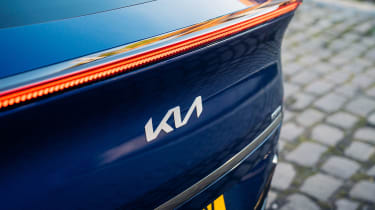 Safety
As something of a technology flagship for the brand, the EV6 is bristling with safety features. Even the standard version gets autonomous emergency braking, which looks out for cyclists and pedestrians, as well as other vehicles. It also has a navigation-based smart cruise control system that can assist with driving in heavy traffic. GT-Line cars add blind-spot warnings, supplemented by semi-autonomous parking, highway driving assist, an augmented reality head-up display and a system to help avoid collisions while parking.
(https://www.carbuyer.co.uk/kia/ev6)