Verdict
It's early days for the Lexus, but it seems the car has a decent blend of dependable real-world range and a surprising amount of practicality. The public charging network is standing up well, too – so far.
Thanks to its relatively early push on hybrid powertrains, Lexus is probably the premium manufacturer best known for electrification. And now Toyota's rival to Audi, BMW and Mercedes is about to embark on a major drive towards pure-electric motoring. You'll have already read in this issue about the brand's ambitious plans for the rest of this decade – yet the process has already begun, with the UX300e.
It might seem like a tentative toe in the water in the face of what's to come, but this is Lexus's first full EV – albeit one that is sold beside a more conventional hybrid edition. The UX300e is a baby SUV designed mainly with urban use in mind, so it has compact dimensions – just 4.5 metres long overall – and a relatively modest battery and range (54kWh and 196 miles). And it'll be down to me to put these raw specs to the test over the coming months.
I'm based in south London, and like many potential EV buyers, I don't have a home wallbox. So the challenge that lies ahead is to see how convenient, or otherwise, life with an EV can be when you're using public charging points most of the time – although the Lexus's life won't be restricted to trips pottering around the capital's suburbs. 
Back in the summer I took a share of a flat near the south coast, and after a few months of renovations and decorating, it's finally time for my partner Dave and I to start enjoying the place. The loose plan is to drive down to the apartment on a full battery, then use some nearby charging points to refill the full 54kWh for the journey home, and the days that follow.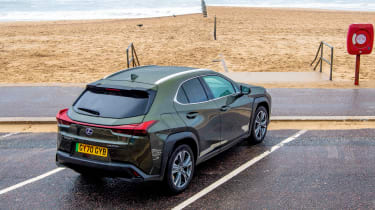 Lexus has a fairly simple range of trim levels, and our version is third level up the ladder – the same as mid-spec, basically, but with 18-inch alloys – so it has the fully laden Takumi edition above it. Even so, there's more than enough standard kit, with four USB ports, front and rear parking sensors, a reversing camera, heated and ventilated front seats, a heated steering wheel and smooth leather upholstery.
Early impressions are positive, but not universally so. The UX300e is very smooth to drive around town and even on the motorway. The brake-energy-recuperation system is straightforward to use, while the car's cabin has impressed me, too; indeed, the UX is almost Tardis-like in its ability to shrink its body around a relatively spacious interior. I noticed another example of the car on the road the other day, and thought it was a different model from the one I was sitting in; it's really spacious, at least for one couple and their luggage for a weekend. 
The biggest gripe we've had so far is the infotainment. For years Lexus has had an iffy reputation in this area, but the Auto Express road testers assure me that the firm has been making big improvements. 
Even so, the screen isn't the biggest in this class, nor the sharpest. I'm also having to live without the built-in sat-nav for now, because the Lexus connected services app on my smartphone has stopped working.
At least we're able to hook up our iPhones to get navigation via Apple CarPlay – a useful alternative that Lexus didn't offer on any of its vehicles until comparatively recently.
Of course, taking delivery of an electric car just as the UK's winter snap starts to bite is perhaps not ideal. But while the Lexus's range is indeed modest, the car is at least honest about it. After drives including motorway and, yes, some miles with the heating cranked up, the UX300e still predicts just over 180 miles on a full charge. It's that sort of accuracy and dependability that could prove crucial in the months ahead.