AMG's involvement with this fresh model has elevated the SL to new heights. It's still a great roadster, but one that now offers more driving fun than ever before. Its engine might be outdated compared with Mercedes' modern EVs, but while the SL boasts some superb advanced tech, even this can't cover the delightfully appealing old-school charm at its heart.  
The Mercedes SL has consistently cut it visually, but dynamically it's always been more of a cruiser than a car to carve up corners in. If you wanted a convertible car that handled sharply, that was the Porsche 911 Cabriolet's job – until now.
For this new SL, Mercedes has enlisted the help of AMG to develop a new rigid aluminium platform – called Modular Sports Architecture – which will also underpin the next AMG GT. It aims to put agility and driving enjoyment right at the heart of the experience, and from our first taste of the range-topping SL 63 4MATIC+ variant we're driving here, it has succeeded.
Despite the new SL's still-significant weight of around two tonnes, its super-sharp steering gives it plenty of agility for such a big car. Sometimes the steering feels a little over-sensitive on the motorway, but on twisty roads it makes sense, pointing the long nose into turns with millimetric precision, helped by its rear-wheel-steering set-up.
In long, fast corners the SL feels superbly stable and locked onto your chosen line, helped by active roll stabilisation that keeps the body level; only out of a tight hairpin on wet tarmac will the rear wheels break traction (an electronically controlled limited-slip differential is standard) – but it's only a twitch and the four-wheel-drive tech steps in immediately to help regulate the SL's angle and deploy its considerable firepower from under the bonnet.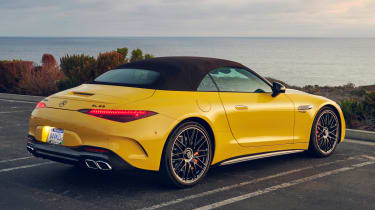 15
With 577bhp and 800Nm of torque from a familiar 4.0-litre twin-turbo V8, the SL has straight-line performance covered, while all-wheel drive gives incredible traction for a 3.6-second 0-62mph sprint. It thrusts you back in your seat, although sometimes there's a very slight delay in the response from the powertrain while the nine-speed automatic gearbox sorts itself out.
The noise delivers the kind of AMG thunder we expect, enhancing the SL's sharp character, but in the more relaxed driving modes refinement is still strong. That's despite its predecessor's folding hard-top being replaced by a soft-top hood, which is actually 21kg lighter than the previous arrangement.
It's comfortable and well insulated with the hood up, and the set-up takes 15 seconds to lower electronically at speeds of up to 37 mph. There are myriad driving modes, so the SL can be tailored to your preferences, but even in Comfort there's a better connection to the road than in any previous edition.  
The new car is a 2+2, with two small rear seats. They're compact and maybe best suited to children, but they add useful extra luggage space, because the boot capacity is only 213 litres with the roof folded down.
Thanks to some big changes inside, there's much more space in the front of this new SL than in past models. A pair of sports seats with Mercedes' trademark Airscarf ventilation system that blows warm air onto your neck are fitted as standard.
Prices have still to be confirmed, but the SL 63 could start from around £140,000 when it goes on sale. And you'll need a big budget to run one, with claimed efficiency of 23.9mpg and CO2 emissions of 268g/km.