The current Rolls-Royce Ghost isn't a radical visual departure from the one it replaced, but in fact features only two carryover parts – the badge and the umbrellas. It's the product of an intense, five-year feedback loop between Goodwood's creative brains and its most influential customers. The result is a car that is both more of the same, but also less of the same.
And it's now been joined by a Black Badge version, developed alongside the regular Ghost. Black Badge editions of various Rollers have been selling very strongly in the five years since the sub-brand was launched. But does it really move the game along, or is it just another cunning way for Rolls-Royce to deprive wealthy customers of even more of their cash? We've donned our smartest slacks and driven both.
Post Opulence
Ghost buyers still wanted to drop over £200,000 on their new saloon, but they wanted their investment to be a little less obvious – and that led to Post Opulence, Goodwood's new understated design philosophy.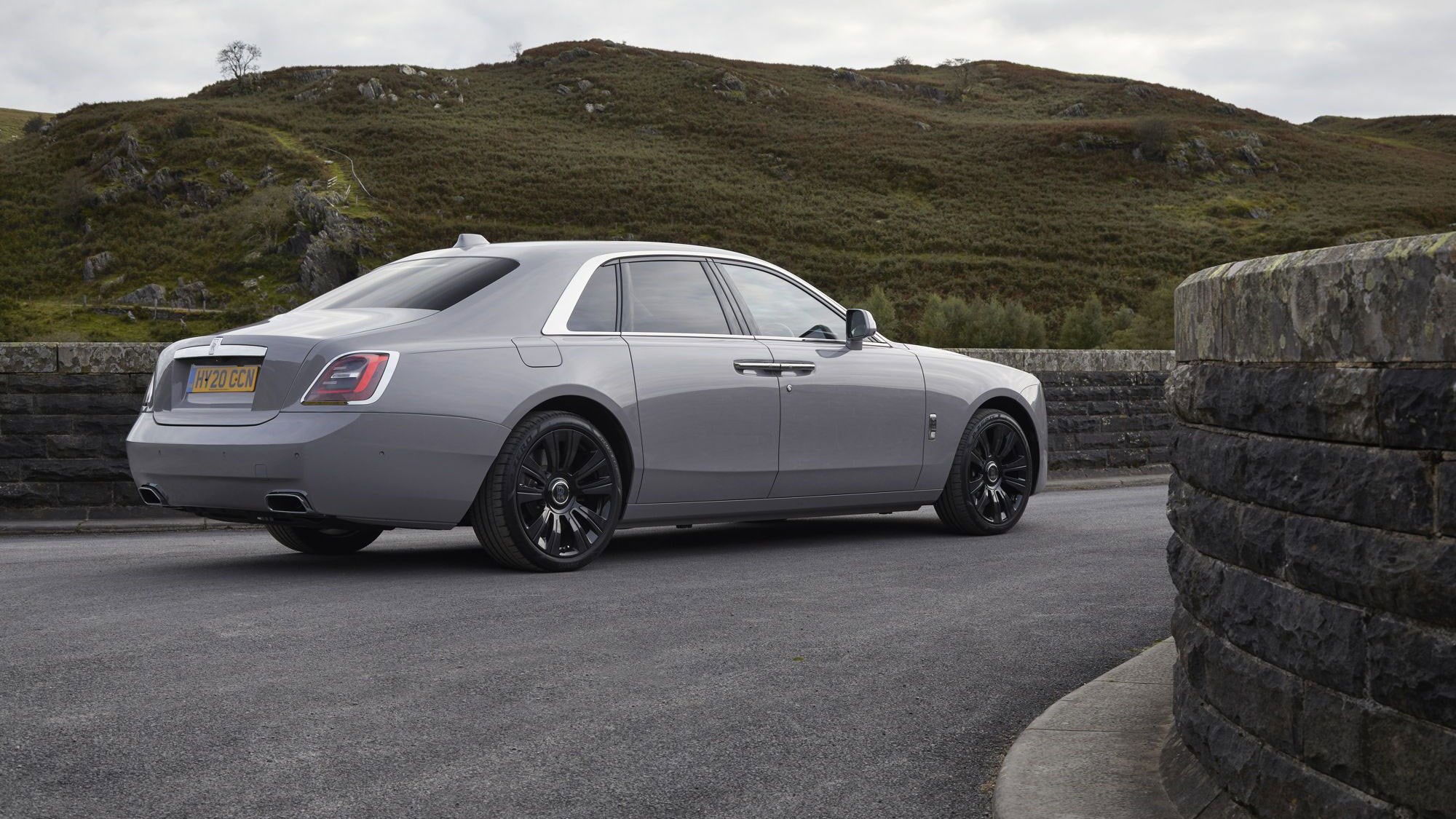 It's why the new Rolls-Royce Ghost is both cleaner and more minimalistic than the car it replaces. Fussy lines and features have been rubbed out, and the car uses some design cues seen in yachts – that other hobby of the super rich.
It still looks like a Ghost but zoom in and you'll find additional details such as an illuminated grille – less tacky than it sounds – fewer shutlines, and a Spirit of Ecstasy that now sits in a chrome island above the grille.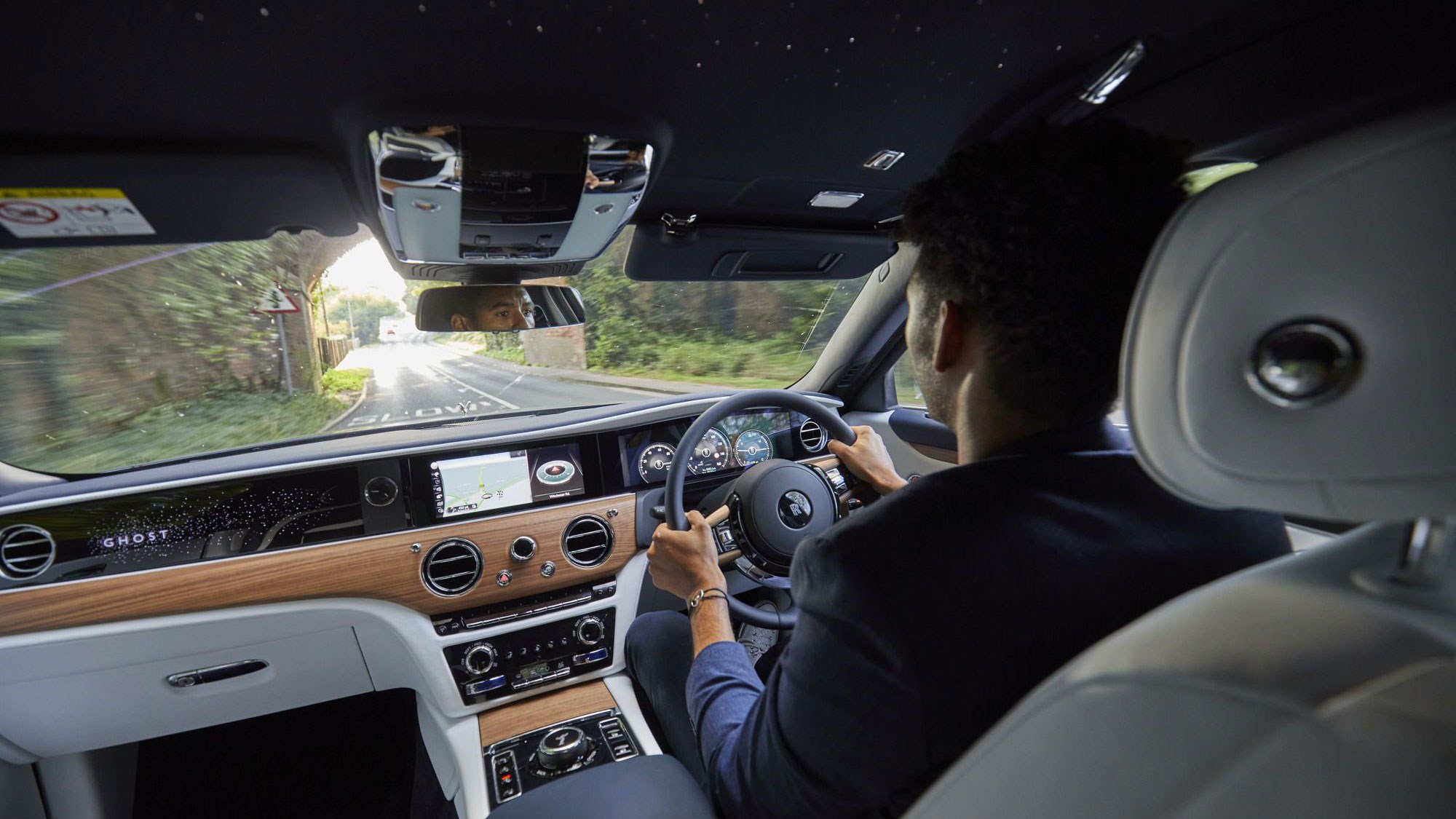 Inside, there's a noticeably modern feel, with quality materials now centre stage rather than intricate details. There's still plenty of the latter, as evidenced by the sparkling headliner and twinkling glovebox panel – but it's less cluttered.
This Ghost also gets all-digital dials with chrome surrounds, much like the Cullinan, while 100kg of soundproofing helps to push away the outside world.
What's it like to drive?
The Ghost may look slightly more refined on the outside, and that slight increase is mirrored in the driving experience; it's an experience full of contradictions.
Four-wheel drive is present, as is four-wheel steering (5 degrees opposite to front lock under 40mph, and the same way over), and when combined with a punchy V12 this baby Rolls is more nimble and engaging than the last.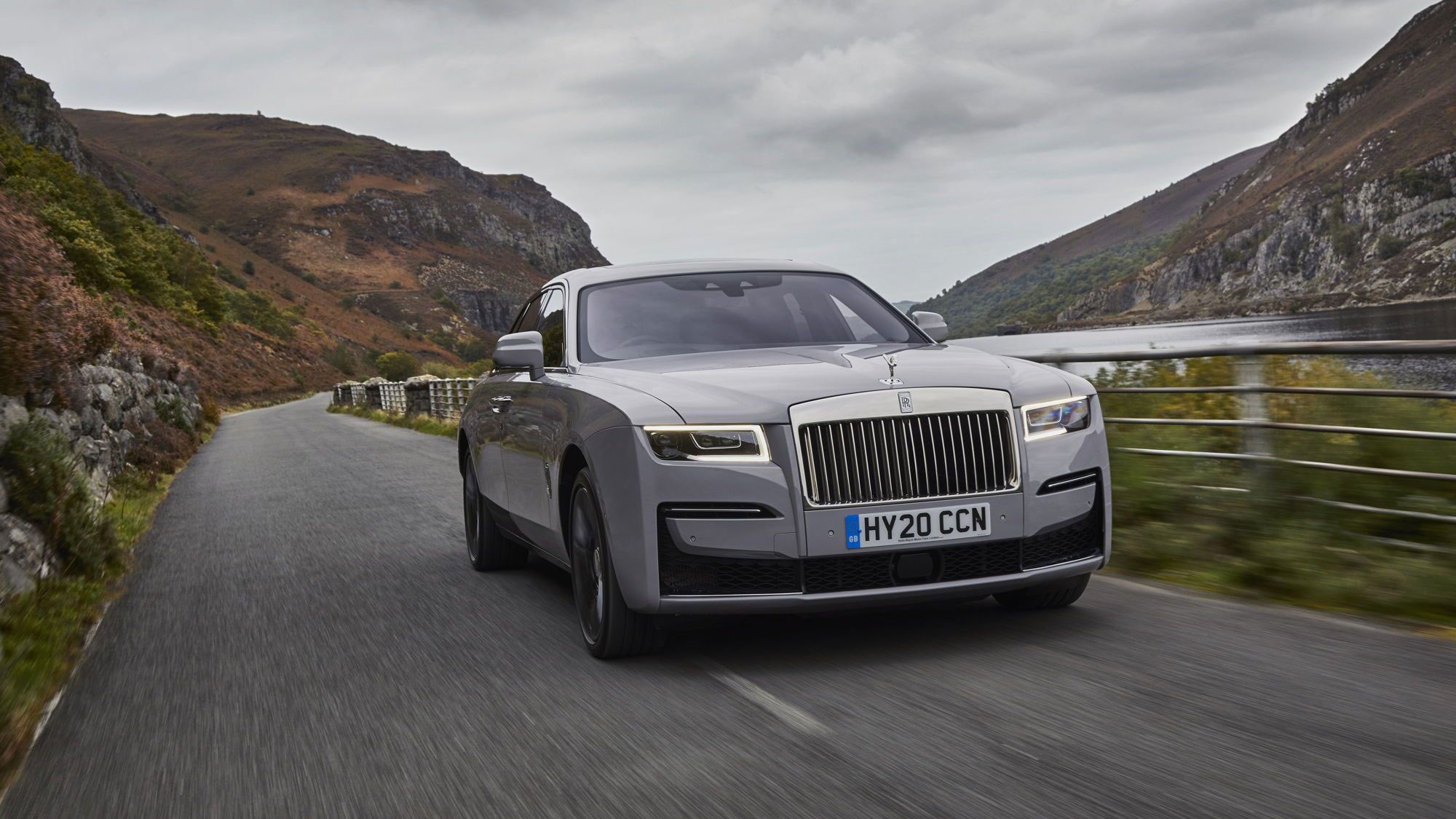 That twin-turbo 6.75-litre V12 is a silent partner, though. Capable of 563bhp, it gets a retune on its way from the Cullinan, but still puts out prodigious torque; there's 627lb ft under your right foot, just a few hundred revs away from tick over.
The 12 cylinders lend themselves to effortless cruising power and decent efficiency, and when paired with low gears and the four-wheel-drive transmission, it's possible – and enjoyable – to drag all 2.5 tonnes of Ghost out of junctions as fast as physics allows.
The ride is also improved over the last car, mainly thanks to Goodwood's new Planar system. It consists of two parts: a couple of 'flagbearer' cameras that scan ahead and brace the suspension for the terrain, and a 3kg mass damper over every wishbone to soak up any extra energy transfer. The result is a filtered-out feeling of the road, and although there's still a sensation of grip, everything else is stripped away.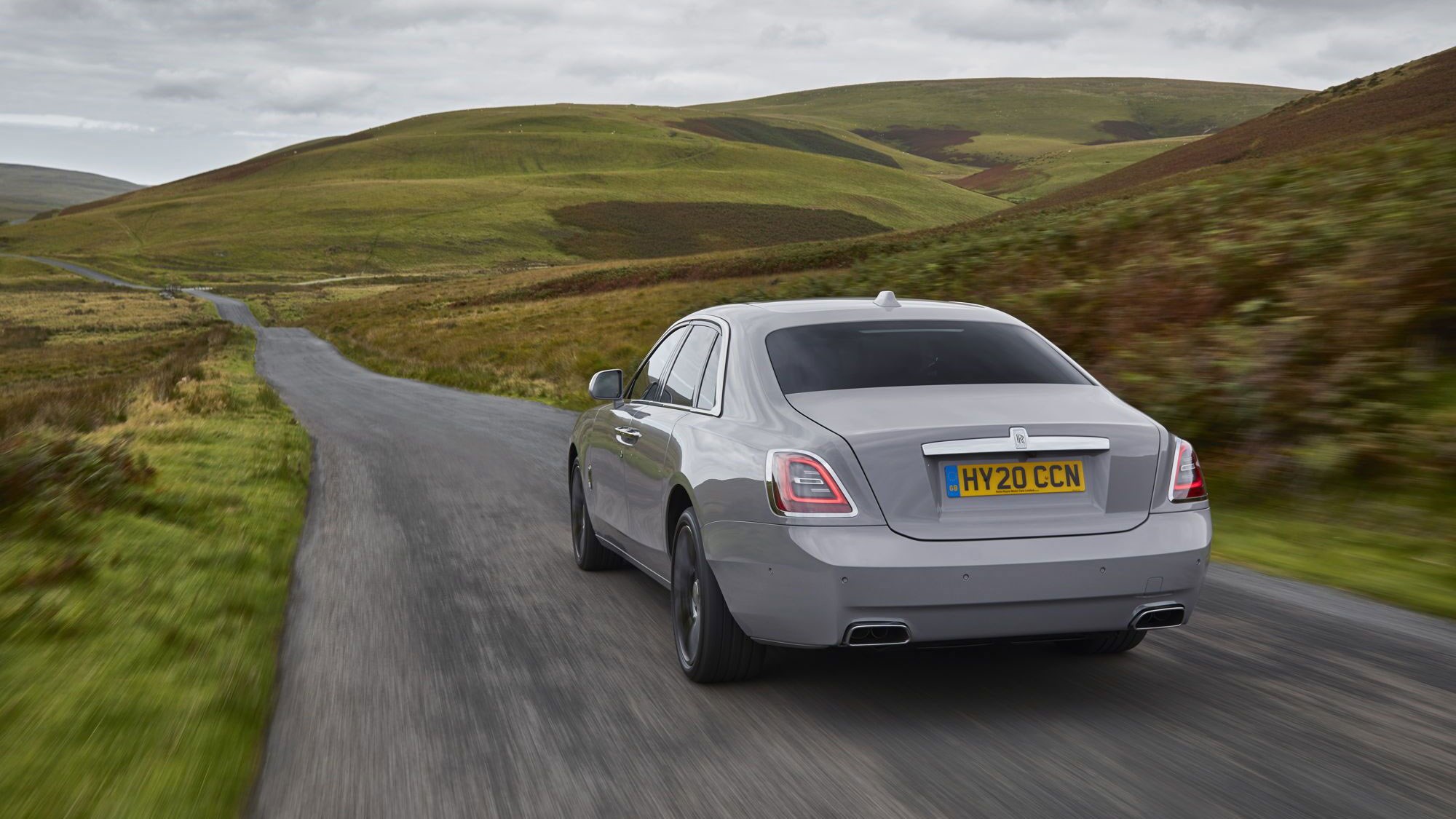 Adding to this strange sensation is the car's light but sensitive steering. Goodwood engineers have made the Ghost's Parthenon-like front end far easier to place than you'd expect, and it changes the way you drive the car. Within minutes you find yourself cleaning up steering inputs to minimise weight transfer, opting for smooth arcs and removing aggression on the brakes and throttle. You almost drive it like an EV.
Get into a groove and you'll carefully manipulate the Ghost's significant weight and power through its skinny steering wheel, and turn a B-road into a smooth rollercoaster. And at the bottom of those peaks and troughs, the Ghost handles compression better than before.
What's the Black Badge version like?
Black Badge is the Rolls-Royce sub-brand aimed at younger customers. From a sales point of view, it's working, with around 30 per cent of buyers opting for a Black Badge version where it's offered. (Bizarre fact: Rolls-Royce customers are now, on average, the youngest within the BMW group.) The starting price is £325,000 but, in reality, everyone will pay more than that, as the whole idea of Black Badge is to make every car different, with the customer's own choice of interior and exterior trim.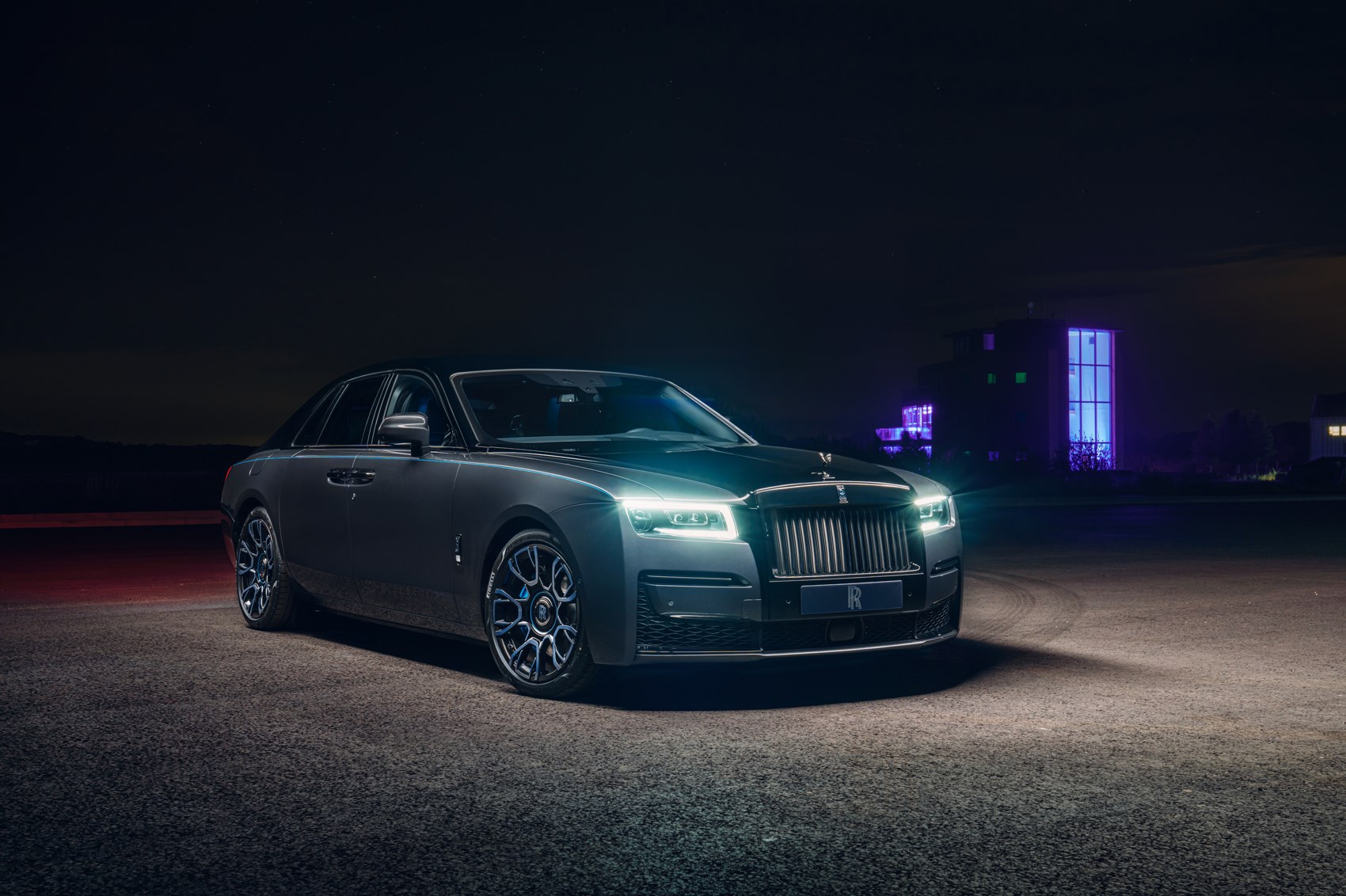 Although there's immense scope for individualisation, the basic changes that turn a Ghost into a Black Badge Ghost include beefier air springs, recalibrated transmission and brake action, different wheels, a new exhaust system, and more power and torque, increasing to 591bhp and 664lb ft respectively.
The look doesn't have to involve black paint, but there's generally less shiny brightwork, inside and out.
And to drive? It's very good. When you're pressing on, you get more help from the suspension, rear-wheel steering and quicker-shifting gearbox, making the Ghost more invigorating while still remaining highly composed. It's marginally louder, inside and out, but never unrefined.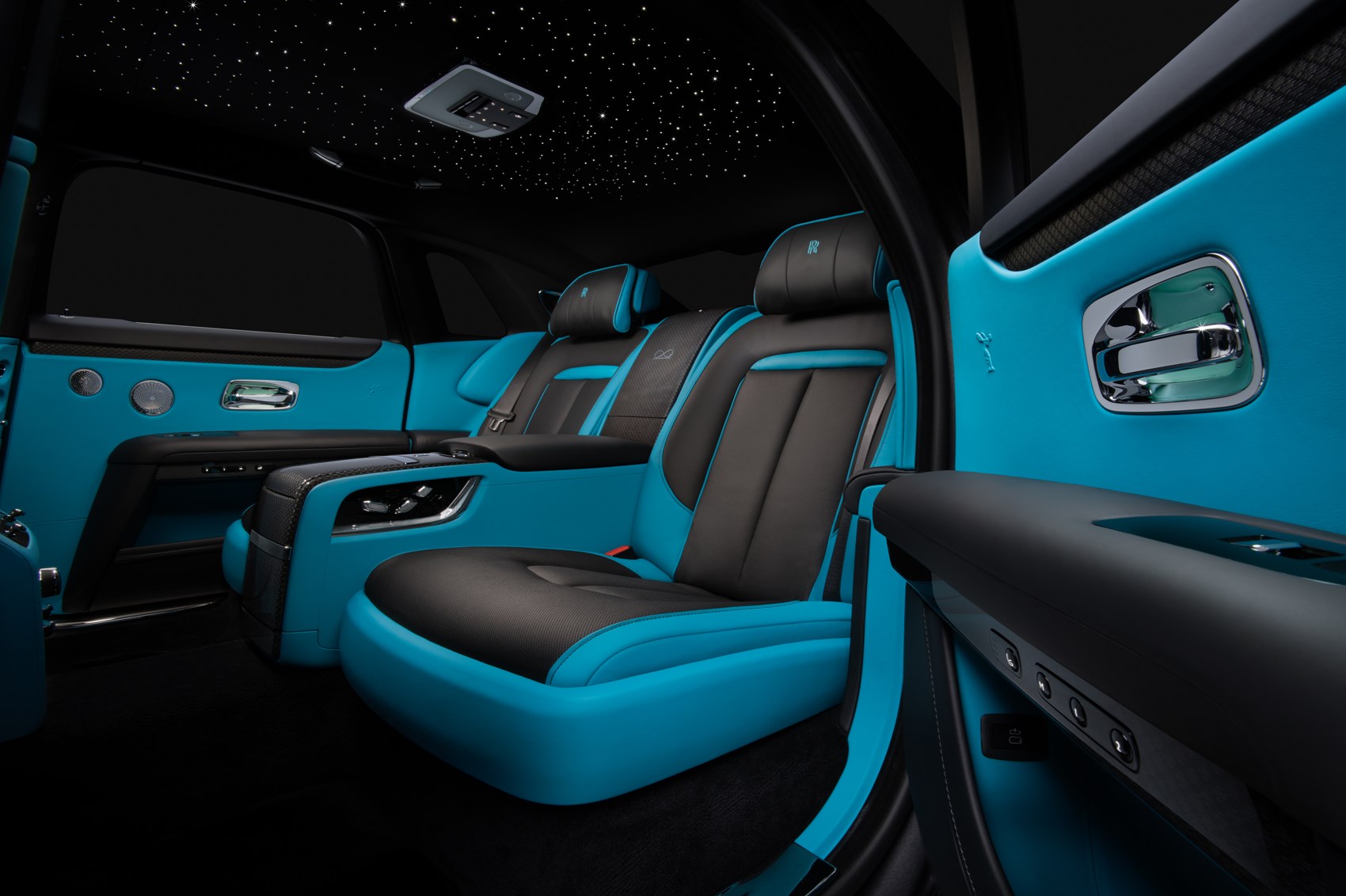 It's much more expensive than any production car you might like to pick as a rival, so comparisons may be irrelevant. Bentley Flying Spur, Maserati Quattroporte Trofeo, AMG S-Class... the BB Ghost makes them all seem a bit insubstantial, remarkably. But the real comparison is probably not with cars from other manufacturers, but with having your Ghost modified by someone who isn't Rolls-Royce. Hard to imagine even the most talented customiser making such a good job of bringing out the performance potential of the Ghost, without losing its classiness and comfort.
Rolls-Royce Ghost: verdict
The new Ghost is better than the last car in every way, which wasn't exactly awful – but at these rarefied levels of refinement the improvement can only be subtle – even after tens of millions of R&D pounds. Rolls-Royce has spent a lot of time, and money, fixing issues that its customers probably never noticed, and the sum of these solutions is an ever-so-slightly better, distilled version of the Ghost.
Specs
| | |
| --- | --- |
| Price when new: | £265,300 |
| On sale in the UK: | Now |
| Engine: | 6.75 litre, twin-turbo V12, 563bhp @ 5000rpm, 627lb ft @ 1600rpm |
| Transmission: | Eight-speed automatic, all-wheel-drive |
| Performance: | 0-62mph 4.8 seconds, 155mph (limited), 18.0-18.6mpg, 347-358g/km CO2 |
| Weight / material: | 2490kg |
| Dimensions (length/width/height in mm): | 5546/2148/1571 |
https://www.carmagazine.co.uk/car-reviews/rolls-royce/ghost-saloon/