Verdict
It looks smart, is pretty good to drive (at least in 1.0 T-GDi form), the fit and finish aren't far short of what VW offers, and standard kit is generous, so there's plenty to like about the Rio. Kia's brand transformation has been complete for a while now, which is why you'll be doing well to find any bargains; the Rio holds its value well, just as all Kias do nowadays. But while the Rio can make a great buy, when we tested one against the Renault Clio and Hyundai i20 last year, the Kia came last because of its high price tag, so-so dynamics, nondescript design and relatively inefficient mild-hybrid powertrain. So the Rio is likeable, but it's not necessarily a class leader, despite its impressive Driver Power record.
Kia is a brand that has undergone a big transformation over the past two decades, and nowhere is this more apparent than with its Rio supermini.
When the original Kia Rio arrived in 2000, there was very little about it that appealed, from its styling to the driving experience and the technology that it featured. But it was good value and dependable, and it was these two cornerstones that allowed Kia to get a foothold in the UK.
In January this year Kia was the UK's biggest-selling brand, and in 2022 it looks set to sell more than 100,000 cars here, claiming more than five per cent of the market. Kia still sells the Rio, which is now a desirable supermini for a number of reasons – but should you buy a used one?
History
The fourth-generation Rio arrived in April 2017, with the same 82bhp 1.25 and 97bhp 1.4-litre petrol engines that had been available in the Rio Mk3. While the smaller engine came only with a five-speed manual gearbox, the 1.4-litre came with a six-speed manual or four-speed automatic. More enticing though, was Kia's 1.0 T-GDi – a three-cylinder petrol unit good for 98bhp or 117bhp with a five-speed manual. Diesel fans could buy an 88bhp 1.4 CRDi, which came only with a six-speed manual.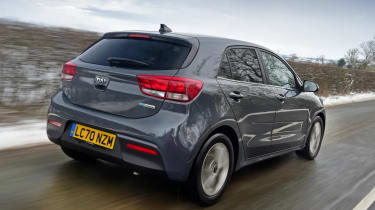 The 1.25-litre Pulse special edition arrived in July 2017, then in March 2018 a GT-Line trim was added to the range. A facelift in August 2020 brought upgraded infotainment and extra driver-assistance tech, plus a mild-hybrid based on the 1.0 T-GDi engine and dubbed EcoDynamics+.
Which one should I buy?
The 1.0 T-GDi engine is easily the pick of the bunch; the 1.25 and 1.4-litre engines aren't fitted with a turbocharger and as a result they lack zip. The 1.4 CRDi diesel is rare, but can be spectacularly frugal, and because of the Rio's youth it's also Euro 6-compliant, so it shouldn't fall foul of any Clean Air Zones. 
No Rio is spartan, with even the entry-level 1 featuring air-con, a multifunction steering wheel, electric front windows, electrically adjustable and heated door mirrors, and Bluetooth. The 2 adds 15-inch alloys, powered rear windows, a seven-inch touchscreen display, Apple CarPlay and Android Auto, a reversing camera, rear parking sensors plus cruise control. 
The Rio 3 has 16-inch wheels, climate control, navigation, heated front seats and steering wheel, privacy glass and auto wipers.
Alternatives to the Kia Rio
The toughest competition comes from the Ford Fiesta, which is readily available and cheap to buy and run. It's also a blast to drive and usually well equipped. If you want practicality, the Vauxhall Corsa and Renault Clio have large boots, spacious cabins and ready availability, too. The Hyundai i20 is closely related to the Kia, so is great value and reliable, while the Peugeot 208 has some brilliant engines and looks smart.
If you're flexible with your budget the Volkswagen Polo and Toyota Yaris are dependable, but they cost more than an equivalent Rio, especially when bought in hybrid form in the case of the Yaris. Other superminis to consider include the Mazda 2 and Dacia Sandero, the SEAT Ibiza, Skoda Fabia and Nissan Micra.
What to look for 
The Rio came with a tyre mobility kit, not a spare. Dealers could sell you a space saver or full-size spare, though.
Auto braking
AEB activates between 4.9mph and 49.7mph, but it doesn't intervene much, even when set to sensitive. The 1 has no standard AEB.
Drive assist
The Advanced Driving Assistance Pack was optional on the 1 and brought AEB, lane keep assist, lane follow assist and a 4.2-inch display.
Hybrid
Buy a facelifted 1.0 T-GDi in 2 trim and it'll have the regular powertrain, but a 3 or GT-Line S will come with 48-volt mild-hybrid tech to help you save fuel.
Common faults
We've heard anecdotal reports from owners of clutch, gearbox and air-conditioning faults with the Rio. It's only been recalled once, though, and its long manufacturer warranty should give you some cover when buying second-hand.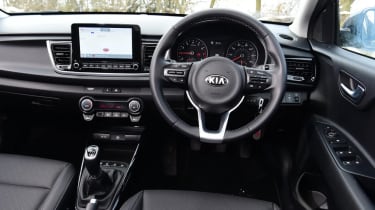 Interior
Designed for clarity rather than flair, the Rio's dashboard is easy to navigate and the switchgear feels robust, but some of the cabin materials are a bit lightweight for the price.
It's easy to get comfortable behind the wheel, and those in the back have it pretty good too, with decent headroom and reasonable legroom if the front-seat occupants aren't too tall. Boot space is among the best in class, at 325 litres with the seat backs up, or 980 litres with them folded. 
The Rio 1 had a stereo with Bluetooth and USB connectivity as standard. Higher trim levels came with better tech – from October 2020, 2 trim and above had an eight-inch touchscreen infotainment system, while top-spec models got built-in sat-nav.
Running costs
All Rios need to be serviced annually, with petrol models having a 10,000-mile interval between visits to the workshop; diesels stretch this cap to 20,000 miles. The maintenance schedule is based on a six-service cycle, and although Kia doesn't offer a discounted maintenance programme nationally, many official dealers do. Also, there are service programmes in place that can help to cut costs significantly.
As an example, the first six services for a petrol-engined Rio are priced at £152, £191, £177, £262, £238 and £435. The equivalent prices for diesels are £152, £189, £176, £257, £151 and £215, and for hybrids you'll pay £152, £254, £178, £254, £249 and then £280. But buy a service plan and you can get two services for less than £350. Even better, because all Rio engines are chain driven, there are no cambelts to replace.
Recalls
The Rio Mk4 has been recalled on just one occasion so far. This solitary campaign was launched in May 2018 in relation to 2,300 cars that had been built between April and June 2017, which were fitted with a cable inside the rear doors to operate the child locks. However, it turned out the cable fitted was actually too short, which is why the locks ended up being faulty; the solution to this issue was simply to fit a longer cable.
Impressively, the previous Rio recall was issued 14 years earlier and it affected the first-generation model, which was recalled in November 2003 because of an anti-lock braking fault as a result of incorrect software being installed within the ECU. Just as impressively, the second and third-generation Rios have never been recalled by Kia in the UK – a testament to the firm's quality control.
Driver Power owner satisfaction
The Rio has performed consistently well in our Driver Power surveys. After a slow start in 2018 when the Rio came 36th out of 75 entries, it edged up to 21st in 2019, making it the highest-rated supermini. Finishing 23rd in 2020 was decent enough, but second place overall in 2021 was much more impressive. Owners put the Rio inside the top 10 for most aspects, but safety features were marked slightly lower.
https://www.autoexpress.co.uk/used-car-tests/358485/used-kia-rio-mk4-2017-date-review