You can probably imagine how the conversation went in the office when an invite to drive a pre-production version of a facelifted Toyota Corolla arrived. Not even an all-new model, but a facelift, which also isn't scheduled to go on sale until 2023. Be still those beating hearts, for you are at risk of putting the planet off its axis. Etc, etc.
But wait. This revised Corolla features the fifth-generation version of Toyota's hybrid system, bringing a big boost in performance to the 1.8-litre model in particular, as well claiming improved refinement and response. How could we possibly let an opportunity to raise those eyebrows once again at the 'self-charging' tagline pass us by?
More pertinently, Toyota was also laying on the old 1.8-litre Corolla hybrid for direct comparison to the new one. That's not something many carmakers ever do, so perhaps there really is something significant at work here. Let's find out.
So what's new for the 2023 Toyota Corolla and its fifth-gen hybrid drive?
The car itself isn't massively different – the Corolla still comes as a family hatchback or Touring Sports estate in the UK (a saloon is available elsewhere). We've been driving the former.
A new set of lights front and rear results in tweaked bodywork and redesigned bumper elements, still covered in camouflage in the pictures – smacking slightly of drawing attention to something that otherwise wouldn't be noticeably different – while there are also minor revision to the crash structure and the suspension.
The safety and infotainment tech gets an upgrade, too, on which more in a moment. Fundamentally, this remains a sharp-looking, comfort-orientated family car, with cramped rear seats but a petrol-electric hybrid powertrain line-up that's become an increasing viable alternative to diesel over the years – and shouldn't be sniffed at as a stop-gap to going full EV.
Seemingly every element of that hybrid system had been overhauled.
How is the new Corolla's hybrid system different?
The lithium-ion battery pack has a 14% greater output, a 14% (18kg) lower weight and is more compact. The control electronics are more efficient and quieter. And the electric motors are more powerful – the one in the Corolla 1.8 jumping 23bhp to 94bhp, the one in the 2.0 increasing 4bhp to 111bhp – while also being 16kg and 18kg lighter, respectively.
All told, this results in the 1.8-litre Corolla now delivering 138bhp combined – up from 120hp – while the 2.0-litre Corolla rises from 181bhp to 193bhp. CO2 drops to 102 and 107g/km.
Put this together with a substantial amount of recalibration and the additional torque-fill now available from the gutsier e-motors.
It should all add up to a faster, quieter, more satisfying car to drive that's also more efficient…
Promises, promises – does it work?
There is nothing particularly wrong with the current 1.8-litre Corolla, in a relaxed, meandering, CVT-governed kind of way. It's not quick, but once you accept that, you tend to arrive at your destination reasonably unruffled – more interested in how often the car runs in EV mode than the 10.9sec 0-62mph time. There's a gauge for that.
As such, going from this to the new 1.8-litre Corolla is more of a surprising transition than the 18bhp overall increase might lead you to suspect. The updated car is immediately more brisk, with an almost muscular level of response that feels comparatively manic.
It isn't, of course. But while this is still a modest family car above all else, a 1.7sec reduction in the 0-62mph time gives you a clue that there's more to this than the combined outright power figure. A lot of work has gone into remapping the accelerator response so it better matches driver intentions, for example, and dialling back the revs the CVT requires for a given amount of progress. Something that much bigger increase in electric motor performance no doubt assists.
So it is faster. It is also quieter at speed (though think lessened rather than absent when it comes to that characteristic CVT lowing noise). More efficient? Well, consider that over a very mixed driving route that included sections of motorway in addition to urban and countryside elements, the car was reporting it had been in EV mode 72% of time and was returning over 60mpg.
That's without driving deliberately for economy, but is likely aided by another new trick the facelifted Corolla has developed.
What kind of new trick?
As with all modern cars, the Corolla is packed with safety equipment the utilises cameras and sensors, much of which is upgraded into a new Toyota T-Mate package for the facelift – bringing the Toyota Safety Sense kit together with a range of other active driver aids.
One of upshot of this is that the car can use the adaptive cruise control gear to automatically vary the amount of deceleration you get when you lift off the throttle. This sounds like chaos, but simply means it maintains a safe distance from the car in front without you having to intervene with the friction brakes, even when slowing almost to a stop.
This is so unexpectedly polished that it turns this ICE car into a one-pedal driving experience much of the time – something that's usually the reserve of pure EVs. Once you realise it's happening, and start planning ahead, it becomes a smooth and probably very efficient experience. Though how much you enjoy it may vary with your natural driving style.
Any other new toys?
There's an all-new infotainment system, with a bigger 10.5-inch anti-glare touchscreen, and you can now have a fully digital instrument cluster.
The former loses the physical buttons around the bezel but is easy enough to use that this shouldn't be a major problem, and at least Toyota still gives you proper ventilation controls.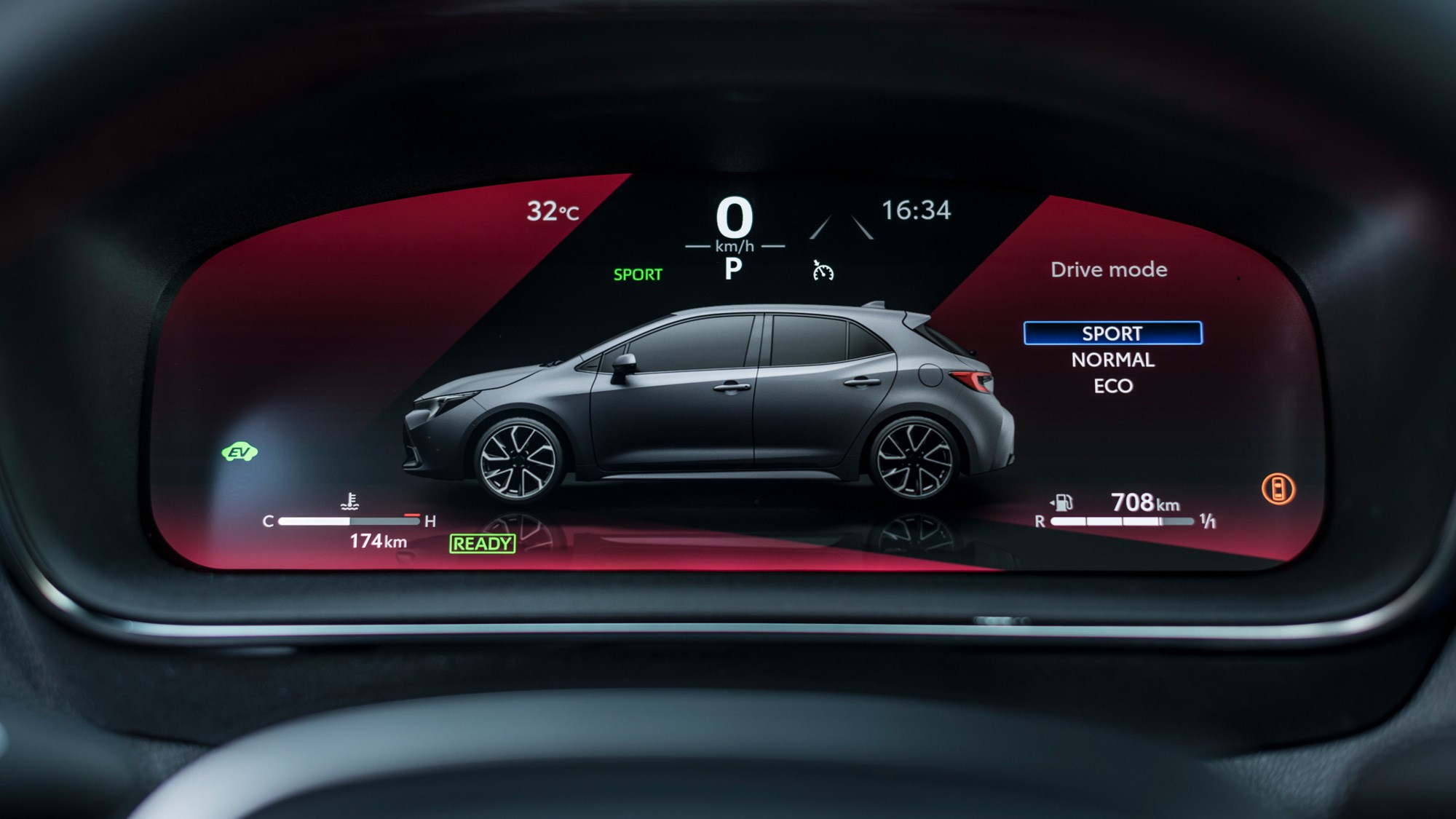 The latter offers a considerable amount of customisation, so you can tailor what it displays to suit your preferences as well as the way it looks. This is best done before setting off, however.
Upgraded safety features include low speed Accelerator Suppression (intended for those instances where you've accidentally stood on the right pedal instead of the left…), Emergency Steering Assist that can now detect and help you react to on-coming vehicles, Safe Exit Assist (warns you if you're about to open a door into a cyclist), and Rear Seat Reminder.
Should we be worried that enough people forget their kids are in the back that this is now a thing?
The new Corolla also gains over-the-air update capability, while the MyT app means you can remotely operate the locks, pre-condition the cabin and set-off the hazard lights via your smart phone.
Has Toyota made the 2023 Corolla any more fun to drive?
It's still more of a cruiser than a bruiser – but that's quite refreshing these days. Ride comfort is good, and the suspension is rarely upset by mid-corner bumps, even on the 18-inch wheels of the higher trim levels; we were testing a GR Sport, which is most definitely not to be confused with the full-fat GR Corolla hot hatch now offered in the USA and Japan.
The steering is light and – if you're clumsy – the body roll is substantial. And even the improved CVT leaves a lot to be desired versus a manual gearbox, a decent conventional automatic or a dual-clutch transmission. But in less spirited driving the Corolla acquits itself just fine, as all modern Toyotas do.
Getting the impression that you kind of like it…
Hard not to, really. This is a broadly inoffensive car with some clever technology that actually works, comes well-equipped, and is – don't deny it – rather attractive to look at. And as if Toyota's reputation for reliability and high-class dealer service wasn't already enough, this is also a car that's available with up to 10 years of warranty coverage, as standard.
The rear seats are cramped, though. The 2.0-litre model also still suffers with a boot that's 48 litres smaller than the 1.8's (313 litres instead of 361), because the 12v battery has to go back there instead of under the bonnet.
So while we haven't yet driven the new 193hp version, the extra get-up-and-go now offered by the 1.8 makes the 2.0-litre seem much less necessary than before.
2023 Toyota Corolla – the initial verdict
Come for the looks, stay for the fifth-gen hybrid system. For whatever you think of that self-charging marketing schtick, Toyota's hybrid tech has really come of age.
That the Corolla is also comfortable – up front, at least – safety conscious, and endowed with one of the best aftercare packages in the business means that for many buyers, Toyota has surely got an overall package here that outweighs the lack of driving excitement. And even so, the drivetrain performance is now substantially improved.
The only question mark that remains is the price. But while it almost certainly won't be among the cheapest of its peers, the value is likely to remain quite convincing.
Specs
| | |
| --- | --- |
| Price when new: | £28,000 |
| On sale in the UK: | Early 2023 |
| Engine: | 1799cc 4-cyl petrol-electric hybrid, 138bhp combined system output |
| Transmission: | CVT automatic, front-wheel drive |
| Performance: | 0-62mph 9.2sec, 112mph top speed, 62.8mpg, 102g/km CO2 |
| Weight / material: | TBC/steel and aluminium |
| Dimensions (length/width/height in mm): | 4370/1790/1460mm |
https://www.carmagazine.co.uk/car-reviews/toyota/corolla-hatchback/