Verdict
While we think some of the cabin ergonomics have taken a step back, there's still plenty to like about the T-Roc as a whole. Be careful with the options list though - with some extras our test car came out to an eye watering £38k.
This is the new-for-2022 Volkswagen T-Roc; a model that has been a booming success for the German brand since its arrival. Over one million of these compact SUVs have been shifted since its launch just five years ago, but with ever strengthening competition, VW has seen fit to give one of its most popular models a nip and tuck.
Most of the styling changes for the chunky-looking T-Roc focus on the lighting. All models get LED tech at the front now, while the grille takes inspiration from the latest Polo and Golf by employing a slim lighting strip that spans the two headlights. The rear units, also LED, get scrolling indicators. Wheel designs are also refreshed, and there are one or two changes to the exterior colour palette; our test car is finished in Ascot Grey, a no-cost option.
Inside, there are some more significant changes. The most obvious comes in the centre of the dash, where the layout has been reconfigured to squeeze in a new, larger, 'floating' style touchscreen. The eight inch display comes with 3D navigation, wireless Apple CarPlay and Android Auto, and a pair of USB-C ports - two more are found in the rear for back seat passengers.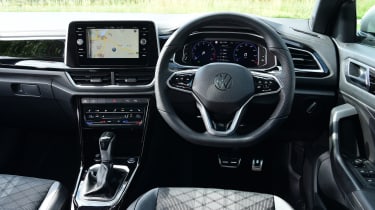 Lower down the dashboard, the old physical switches for the climate controls are gone, and in their place sit a set of touch sensitive keys. If you want to adjust the temperature or the fan speed, you can either swipe or tap on a sliding scale to adjust them. While there's a little groove to let your fingers find them a little more easily, they're still not very intuitive.
At least when we previously tried the T-Roc in a lower trim level, it had physical buttons on the steering wheel. They were straightforward, looked neat enough and got the job done. 
This model however, features touch sensitive buttons with haptic feedback of sorts, and we're not sold on them at all. Inconsistent in their response, they're frustrating to use and it's all too easy to accidentally skip a track, radio station, or accidentally alter the volume. The layout is largely similar to the physical keys on the standard steering wheel, but they're so much less tactile and satisfying to use. Both the wheel keys and the climate controls feel like making a change purely for aesthetics rather than for functionality. We think they're both examples of bad design. 
At least it's hard to fault the practicality. Even though the T-Roc is 45mm shorter than a Golf, the raised roofline means that it's even more spacious inside. Rear headroom and knee room are both great, while the 445-litre boot is 64 litres up on a Golf. There's a movable false floor back there, which gives you a choice between maximising the space or having a level load lip.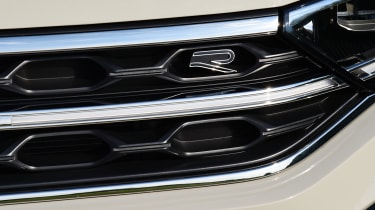 Little has changed about the way the T-Roc drives, which means buyers will get the same solid, reassuring feel that's typical of pretty much any VW on sale currently. The steering is precise and fairly light, so it's easy to drive around town, it goes through corners competently and with plenty of grip, while at motorway speeds, it feels stable and completely reassuring. 
Our test car was also equipped with adaptive dampers. They're a £1,065 option, allowing the driver to adjust the firmness of their response. We'd keep them in the softer setting; like this, the T-Roc is slightly more comfortable than on its standard passive dampers, while the firmer setting removes some comfort without any significant improvements in body control. Either way, the improvement is only marginal, so most buyers should be happy saving the cash and sticking with the standard setup.
Under the bonnet sits the tried and tested 1.5-lite TSI engine, and it's very hard to knock. Here, it makes 148bhp, which in a relatively compact car like the T-Roc translates into plenty of performance. It's probably more power than the average buyer needs in something like this, but given that the impressive mpg figures it returns are hardly any different from the smaller 1.0-litre TSI unit - despite a 40bhp power advantage - then we wouldn't discourage anyone taking the more potent option. 
Elsewhere in the range, buyers can choose from a 2.0-litre petrol with 187bhp and four-wheel drive, and two 2.0-litre diesels with 113bhp and 148bhp - the latter also available with four-wheel drive.There's also a high performance T-Roc R with 296bhp.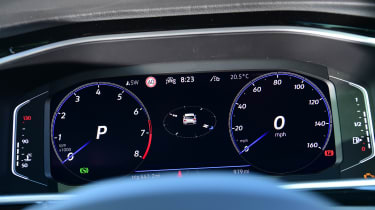 Officially, the T-Roc 1.5 TSI will hit 46.3 mpg. In the real world, that seems fairly accurate; we achieved high thirties/low forties mpg around town, and reached as high as 50mpg at a steady motorway cruise.
It's a shame that the DSG gearbox isn't quite up to the same high standards. It's okay most of the time, but when manoeuvring at low speed - particularly in reverse - it's very jumpy, which can make parking in tight spots or on inclines a little bit tense. 
There is just one more issue though, and that's the price. This T-Roc complete with a 1.5 turbocharged petrol engine, automatic gearbox and in high-ranking R-Line trim, starts at £33,095. With options, including the panoramic sunroof (£1,150), Matrix LED headlights (£1,650), a very underwhelming Beats hi-fi (£470) plus those adaptive dampers, among others, and the price comes to an eyebrow-raising £38,080. We're really not convinced that the T-Roc feels special enough to justify that price.