Ford used to have the high-performance, factory off-road market cornered with the F-150 Raptor, but in the last few years, Stellantis — parent company of Jeep and Ram — has one-upped the Blue Oval with vehicles like the Wrangler Rubicon 392 and Ram 1500 TRX. Both vehicles subscribe to the "put a powerful V-8 in it and it'll be fine" way of thinking, while Ford has taken a different route with the F-150 Raptor by giving it incredible off-road prowess but dropping its V-8 engine for a twin-turbocharged 3.5-liter V-6. Though Ford has ceded the horsepower war for now, the automaker has confirmed that an F-150 Raptor R, powered by a V-8, is on its way.
Driving the Bronco Raptor on the Street
Like the F-150 Raptor, the Bronco Raptor is a sloppy kind of fun on pavement; it's not perfect, but it's not meant to be. The twin-turbo 3.0-liter V-6 producing 418 horsepower and 440 pounds-feet of torque makes the Bronco Raptor feel quick but not blindingly fast. The 10-speed automatic transmission shifts smartly.
Steering feel and handling are significantly improved over the regular Bronco, too. The Bronco Raptor has a much more advanced suspension with heavier-duty components borrowed from the F-150 Raptor, upgraded steering components, increased rigidity and significantly increased track widths of 73.2 inches in front and 73.6 inches at the rear. That's a whopping 8.2 inches wider in front and 8.6 inches wider in back versus a base Bronco. The Bronco Raptor's brakes are also borrowed from the F-150 Raptor and do an admirable job of uneventfully bringing this 5,700-plus-pound SUV to a stop. All the tweaks to turn a Bronco into a Bronco Raptor have also resulted in a maximum towing capacity of 4,500 pounds, a 1,000-pound increase.
The V-6's adjustable exhaust note leaves a lot to be desired even in its loudest Baja setting. The Sport drive mode includes aggressive downshifting and automated throttle blips as you decelerate, but the engine sound simply isn't as pleasing as the throaty rumble of a V-8. There's also a fair amount of road and wind noise in the cabin, though it's worth remembering that the Bronco's doors and roof are removable; it's a fair trade to me. The standard 37-inch BFGoodrich All-Terrain T/A KO2 tires are fairly quiet at speed, too, which isn't always the case with off-road tires.
Visibility is an issue, with the Bronco's large front windshield pillars restricting the driver's view when cornering. The giant full-size, rear-mounted spare tire and taillight assembly is big enough to hide entire cars. It can make highway driving feel fraught when you're in the passing lane because you can't tell if someone is right behind you.
Fuel efficiency is probably low on the list of concerns for Bronco Raptor buyers, but with gas prices near record highs, it's worth knowing what you're signing up for with this SUV. It's EPA-rated at 15/16/15 mpg city/highway/combined, and Ford recommends more expensive premium gas. Lowly though those ratings may seem, they still mostly best the Wrangler Rubicon 392, which requires premium and is EPA-rated at 13/17/14 mpg.
Who Cares About on the Street? What About Off-Road?
You probably won't be surprised to learn that the Bronco Raptor feels incredibly capable off-road, equally adept at high-speed desert running and low-speed rock crawling. I got a chance to beat the hell out of the Bronco Raptor and never felt like I was even close to reaching its limits. What impressed me about this experience, however, was that we drove on regular off-road trails as opposed to an off-road loop specifically created for the event. It's never shocking when a vehicle completes a course made just for it, but that wasn't the case here.
At low speeds, the Bronco Raptor is nimble and, for the most part, easily managed. Modulating the gas pedal is fairly easy, though in Rock Crawl and 4-Low, it sometimes lurches forward as the transmission upshifts into 2nd gear. For more technical sections, it might be wise to put the transmission into Manual and hold it in 1st gear.
The Bronco Raptor also comes standard with all the off-road goodies of the regular Bronco, including Trail One-Pedal driving and Trail Control off-road "cruise control," as well as the nifty Trail Turn Assist. The one-pedal feature was useful on tricky downhill sections, but two-footing it was easy, too.
The Bronco Raptor's ground clearance is 13.1 inches — 4.8 inches more than a base Bronco and 1.6 inches more than a Bronco with the Sasquatch Package. It's also 2 inches greater than a Wrangler Rubicon 392 with the Xtreme Recon Package, or 0.2 inch more than a regular Wrangler Rubicon with the package. The Bronco Raptor's approach, departure and breakover angles are 47.2, 40.5 and 30.8 degrees, respectively. A base four-door Bronco is 35.5, 29.7 and 20 degrees, and the Sasquatch increases them to 43.2, 37 and 26.3 degrees. Wrangler Rubicons with the Xtreme Recon Package are either 47.4, 40.4 and 26.7 degrees without the 392 V-8 or 46.7, 39.8 and 24.5 degrees with it.
The biggest hindrance to slow-speed off-roading in the Bronco Raptor is a familiar problem for vehicles bearing the Raptor name: It's wide. It's nearly as wide as the F-150 Raptor, in fact, measuring 86.9 inches wide with the side mirrors out and 85.7 inches with them folded. The F-150 Raptor is 86.6 inches wide with its mirrors folded and 96 inches wide with them extended. Xtreme Recon Wranglers, meanwhile, are 79.3 inches wide.
Like the F-150 Raptor, the Bronco Raptor is legally required to have marker lights because of its extreme width. In practical terms, this means you could end up in some tight situations off-road or get free pinstriping from local flora. However, the Bronco Raptor's wheelbase is 116.5 inches, or nearly 30 inches shorter than the F-150 Raptor's, which results in much better low-speed maneuverability.
As good as it is at the low-speed stuff, the Bronco Raptor feels even better when it gets to stretch its legs a little — and with 13 inches of front and 14 inches of rear suspension travel, it really can stretch them. The upgraded HOSS — High-performance, Off-road, Stability, Suspension — 4.0 suspension includes Fox-brand live-valve shocks that are 3.1 inches in diameter and suspension height sensors that take measurements 500 times per second and can then adjust the damping as needed.
Speeding through the desert, the ride is remarkably controlled for the terrain, and the suspension travel makes bottoming out and hitting the jounce stops an actual challenge. For optimum drivetrain performance, the Bronco Raptor also has a uniquely tuned Baja mode for even more desert-running fun. Besides the loudest active exhaust setting, it activates a specific turbo anti-lag calibration that Ford says increases performance during desert runs. You might even call it a … Baja blast (sorry).
Off-roading at any speed is punishing to a vehicle, and Ford has beefed up the Bronco Raptor's underpinnings. The regular Bronco has a Dana 44 rear axle, but the Raptor gets a Dana 50 heavy-duty rear axle. The front half-shafts have been upgraded, and there's more underbody skid plating than on a regular Bronco. After noticing during testing that hitch-receiver covers kept getting lost, Ford even gave the hitch receiver and plugs their own little "beaver tail" to try to prevent that from happening to owners.
Looking Like a Raptor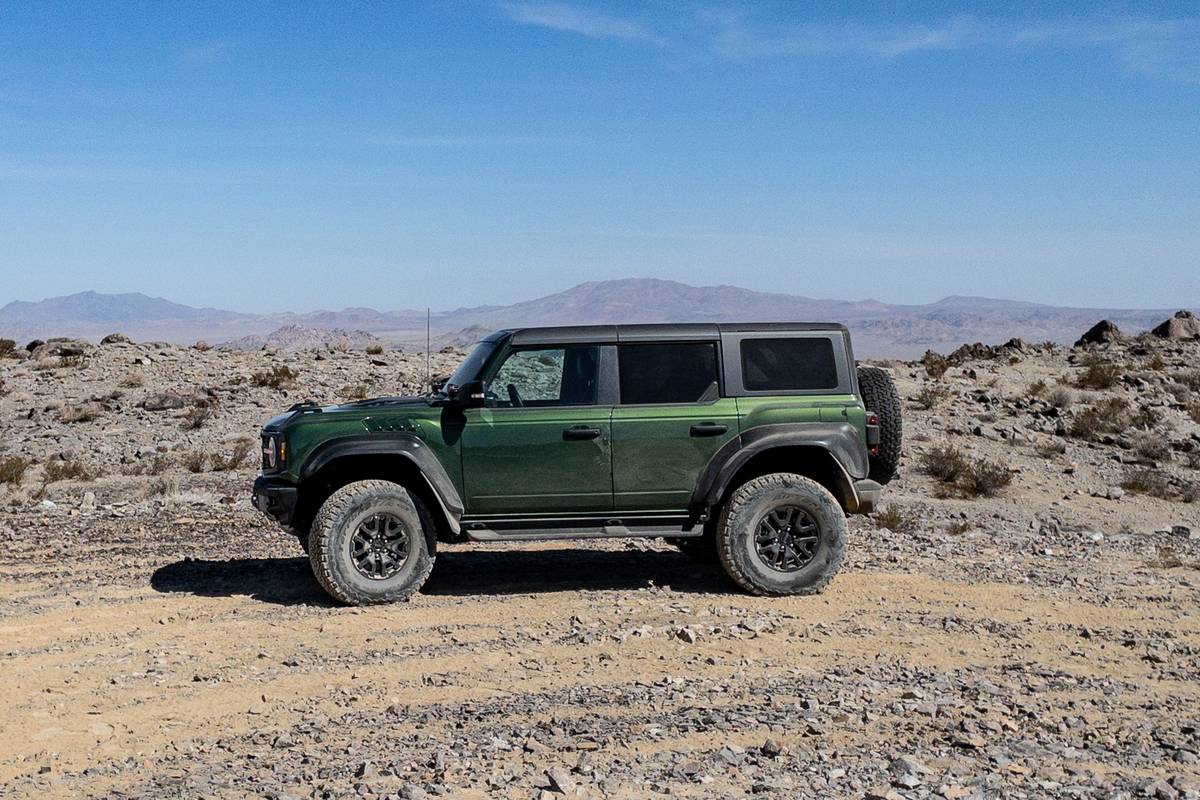 Looks, subjective though they may be, are part of the Raptor equation. On the outside, that means insane fender flares, beadlock-look wheels (beadlock-capable wheels are optional), fender vents, optional graphics and a functional heat extractor on the hood. It also means a "F-O-R-D" grille design, just like the F-150 Raptor, instead of the traditional Bronco grille. The width and stance are imposing, and the Bronco Raptor dwarfs non-Raptor Broncos — almost comically so.
Inside, the interior remains mostly regular Bronco, but with Raptor-specific touches like carbon-fiber and Code Orange accents, as well as unique graphics in the standard digital instrument panel. Despite all the cool graphics and the useful Sync 4 infotainment system with physical controls and wireless Apple CarPlay and Android Auto, the most important thing during my drive was the Code Orange 12 o'clock stripe on the steering wheel, which helped me keep the front wheels pointed in the correct direction when following the spotters' directions.
The interior being mostly Bronco is both good and bad: It feels roomier than a Wrangler, and the control layout is wonderfully intuitive and easy to use, but it doesn't make the Bronco Raptor feel unique, and the quality is a little below the Jeep's. There are also convenient grab handles — especially useful during high-speed off-roading.
One of my favorite trends among automakers is the inclusion of "Easter eggs" — fun, little details and surprises — in and/or on vehicles, and the Bronco Raptor has some nice ones, including the years a Bronco won the Baja 1000 on the heat extractor vents and the coordinates for Johnson Valley, Calif., where the Bronco Raptor was developed and where I drove it. There are many others, as well, so good luck finding them.
Should You Buy a Bronco Raptor?
A better question might be "Can you buy a Bronco Raptor?" And the answer is: Probably not — or at least not easily, and likely not for its already hefty starting price of $70,095 (including destination). Orders for the 2022 model are already closed, per Ford's website.
Should you get in line for a 2023 model, then? I enjoyed my time in the Bronco Raptor so much that it has rocketed up my "cash out my 401(k)" list, but I'd also want to move somewhere where I could get to use its full abilities regularly. That's the rub with the Bronco Raptor: It lives up to the Raptor name and is so good that not using it properly feels like a real shame to me. Or maybe you just think it looks cool, and that's enough for you. It might be enough for me, too.